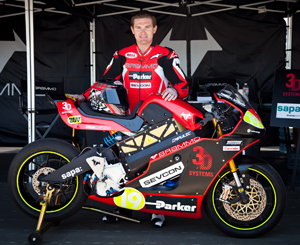 A new all-electric motorcycle built by Brammo Inc. is using a MPP series traction motor and innovative cooling technology to maximize power density and peak torque output. The motor technology yields up to 40 percent higher torque per unit size than conventionally constructed permanent magnet motors, and delivers 20 to 350kW of power with 97 percent efficiency.

The Brammo bike was unveiled at the Red Bull US Grand Prix at the Mazda Raceway in Laguna Seca, CA, where a major race took place as part of the FIM e-power race series.

What the MPP traction motor technology embodies is a high-efficiency solution that offers broad scalability and manufacturability. But from a performance and technology standpoint, what creates the high motor power density that fits well into electric vehicles is innovative cooling technology that maximizes motor performance.

"We've added a dual cooling system to our motors that features patent-pending dry-rotor internal cooling technology," says Jay Schultz, a product manager for Parker's Electromechanical Automation Div. "As we implement these on our motors, it increases the peak power output up to four times."

Schultz says that, for example, if a standard motor has a power output of 20 kW peak, the equivalent MPP traction motor will output 80 kW peak, with very little added weight. The difference is largely attributed directly to superior cooling of the motor which significantly increases power density.

Internal cooling also raises the continuous power of the motor by 8.5 times because as the race bike is accelerating outside of every curve, maintaining continuous power as high as possible is extremely important in the dynamics of how the bike operates.

"If you think about what causes torque, it is the current inside of the motor windings. When you are running current through the windings, there are losses but our internal cooling extracts losses in the form of heat by taking them directly from the windings back out to ambient," says Schultz.

In a typical application, losses go from the winding, to a lamination, the case and finally to ambient. But with this technology, losses in the form of heat move directly from the windings to ambient which improves continuous power output substantially.

Target electrification applications for the MPP technology include jet skis, forklifts, compact cars, sedans, vans, light duty trucks, high-performance sports cars, medium duty trucks, large boats, buses and Class 8 trucks. Across all of these applications, the internal and external cooling technology has been employed, but dual cooling is particularly useful where there is aggressive power usage such as marine applications, Class 8 trucks and this electric race bike.

"With other vehicles such as a sports car where you are running primarily at very high speeds, the application is not continuously requiring high continuous power from the motor," says Schultz. "With this application, we took the power density of the motor to the max and squeezed it into the tightest possible package."

When the bike makes its debut in September, Brammo is hoping that the leaders in the racing circuit will have a serious new contender vying to capture the winning trophy. Brammo also plans to market a street version of the race bike for the commercial market next year. Brammo and Parker are working through the details around a smaller MPP motor for the production version.

Click here to read the Parker Electromechanical Automation blog.



The new draw-it-on-a-napkin is the CAD program. As CAD programs become more ubiquitous and easier to use, they have replaced 2D sketching for early concepting.
These free camps are designed for children ages 10 to 18. Attendees are introduced to 3D CAD software and shown how 3D printers can make their work a reality. Here we check out the stops in California and Utah.
A University of Chicago graduate has invented a compact elliptical trainer that lets people work out at their desk while they work.
Dean Kamen told an audience at MD&M East 2014 that FDA regulators aren't to blame for stalling innovation in the medical device industry. Hear what he had to say.

3
Battery maker LG Chem Power Inc. plans to offer a new cell chemistry that could serve as the foundation for an affordable electric car with a 200-mile driving range by 2017.

Focus on Fundamentals consists of 45-minute on-line classes that cover a host of technologies. You learn without leaving the comfort of your desk. All classes are taught by subject-matter experts and all are archived. So if you can't attend live, attend at your convenience.
Next Class: August 12 - 14