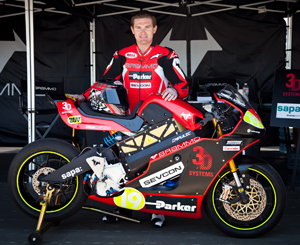 A new all-electric motorcycle built by Brammo Inc. is using a MPP series traction motor and innovative cooling technology to maximize power density and peak torque output. The motor technology yields up to 40 percent higher torque per unit size than conventionally constructed permanent magnet motors, and delivers 20 to 350kW of power with 97 percent efficiency.

The Brammo bike was unveiled at the Red Bull US Grand Prix at the Mazda Raceway in Laguna Seca, CA, where a major race took place as part of the FIM e-power race series.

What the MPP traction motor technology embodies is a high-efficiency solution that offers broad scalability and manufacturability. But from a performance and technology standpoint, what creates the high motor power density that fits well into electric vehicles is innovative cooling technology that maximizes motor performance.

"We've added a dual cooling system to our motors that features patent-pending dry-rotor internal cooling technology," says Jay Schultz, a product manager for Parker's Electromechanical Automation Div. "As we implement these on our motors, it increases the peak power output up to four times."

Schultz says that, for example, if a standard motor has a power output of 20 kW peak, the equivalent MPP traction motor will output 80 kW peak, with very little added weight. The difference is largely attributed directly to superior cooling of the motor which significantly increases power density.

Internal cooling also raises the continuous power of the motor by 8.5 times because as the race bike is accelerating outside of every curve, maintaining continuous power as high as possible is extremely important in the dynamics of how the bike operates.

"If you think about what causes torque, it is the current inside of the motor windings. When you are running current through the windings, there are losses but our internal cooling extracts losses in the form of heat by taking them directly from the windings back out to ambient," says Schultz.

In a typical application, losses go from the winding, to a lamination, the case and finally to ambient. But with this technology, losses in the form of heat move directly from the windings to ambient which improves continuous power output substantially.

Target electrification applications for the MPP technology include jet skis, forklifts, compact cars, sedans, vans, light duty trucks, high-performance sports cars, medium duty trucks, large boats, buses and Class 8 trucks. Across all of these applications, the internal and external cooling technology has been employed, but dual cooling is particularly useful where there is aggressive power usage such as marine applications, Class 8 trucks and this electric race bike.

"With other vehicles such as a sports car where you are running primarily at very high speeds, the application is not continuously requiring high continuous power from the motor," says Schultz. "With this application, we took the power density of the motor to the max and squeezed it into the tightest possible package."

When the bike makes its debut in September, Brammo is hoping that the leaders in the racing circuit will have a serious new contender vying to capture the winning trophy. Brammo also plans to market a street version of the race bike for the commercial market next year. Brammo and Parker are working through the details around a smaller MPP motor for the production version.

Click here to read the Parker Electromechanical Automation blog.




4
In a bid to boost the viability of lithium-based electric car batteries, a team at Lawrence Berkeley National Laboratory has developed a chemistry that could possibly double an EV's driving range while cutting its battery cost in half.

2
The Chinese are investing in the people and the infrastructure that will make the Chinese MEMS industry competitive in the world economy — with hopes of being the best.

0
Using Siemens NX software, a team of engineering students from the University of Michigan built an electric vehicle and raced in the 2013 Bridgestone World Solar Challenge. One of those students blogged for Design News throughout the race.

2
Datalogic Automation has introduced four specific lines of encoders that enable smart motion control in a range of industrial automation applications.

16
Robots that walk have come a long way from simple barebones walking machines or pairs of legs without an upper body and head. Much of the research these days focuses on making more humanoid robots. But they are not all created equal.


LATEST ARCHIVED BROADCAST
For industrial control applications, or even a simple assembly line, that machine can go almost 24/7 without a break. But what happens when the task is a little more complex? That's where the "smart" machine would come in. The smart machine is one that has some simple (or complex in some cases) processing capability to be able to adapt to changing conditions. Such machines are suited for a host of applications, including automotive, aerospace, defense, medical, computers and electronics, telecommunications, consumer goods, and so on. This discussion will examine what's possible with smart machines, and what tradeoffs need to be made to implement such a solution.



Datasheets.com Parts Search
185 million searchable parts
(please enter a part number or hit search to begin)