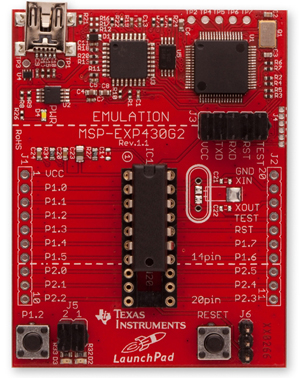 Texas Instruments Inc. has unveiled a $4.30 development kit targeted at the 25-cent, 16-bit microcontroller line that it rolled out earlier this year.

Known as LaunchPad, the new kit is intended to help engineers who want to transition their future applications from eight-bit to 16-bit microcontrollers (MCUs).

"We're trying to make the development process as simple as possible, so that they don't have to start from the ground, up, and deal with all the bits and bytes of programming," says Adrian Fernandez, a product marketing engineer for TI's MSP430 team. "By doing it with LaunchPad, everything is modular. All they have to worry about is their application and what they want to do with it."

The new product represents a departure from other development kits, which cost about $50 apiece on average, with some reaching as high as $200, TI says. As such, the electronics giant is targeting the new kit at two groups: engineers who want to graduate from eight- to 16-bit designs; and engineers who have never employed a TI MSP430 or an MCU of any kind.

TI released the so-called MSP430 Value Line family of microcontrollers in March, with the idea of going head-to-head with eight-bit devices in the low end of the $13 billion MCU market. Price for the 16-bit family, which offers more MIPS and lower power consumption than most eight-bit devices, start at just 25 cents apiece. To date, the company has released 27 separate types of Value Line devices, with the ultimate plan calling for about 100 of them in the next 15 months.

Applications for the device include capacitive touch and remote sensing, as well as lighting, safety and security, fitness equipment, and consumer electronics, such as 3-D glasses. At a TI Wiki page created for the product, users have posted videos of LaunchPad being applied in the creation of simple games, LED controllers and servo motor controllers.

Fernandez says that the development kit was created in response to demand from engineers. "We received a lot of customer feedback regarding the need for a low-cost development kit for (the Value Line)," he says.

He adds that the cost of the kit is encouraging developers to try it. "It's cheaper than a Happy Meal," he says. "We can't wait to see what our customers do with it."




4
Using almost 200 light-emitting diodes in the front and back of the new 2014 CTS, Cadillac designers are showing how LEDs can change the character of a vehicle.

1
Carbon fiber composites are being used in a satellite fuel tank designed to burn up on re-entry.

3
One of the university-level research efforts to improve the composition of lithium-ion batteries through nanotechnology has gone commercial.

1
Yin-Mei Li of the University of Science and Technology of China developed a way to manipulate blood cells using lasers.

19
We looked at a number of sources to determine this year's greenest cars, from KBB to automotive trade magazines to environmental organizations. These 14 cars emerged as being great at either stretching fuel or reducing carbon footprint.


A quick look into the merger of two powerhouse 3D printing OEMs and the new leader in rapid prototyping solutions, Stratasys. The industrial revolution is now led by 3D printing and engineers are given the opportunity to fully maximize their design capabilities, reduce their time-to-market and functionally test prototypes cheaper, faster and easier. Bruce Bradshaw, Director of Marketing in North America, will explore the large product offering and variety of materials that will help CAD designers articulate their product design with actual, physical prototypes. This broadcast will dive deep into technical information including application specific stories from real world customers and their experiences with 3D printing. 3D Printing is




Datasheets.com Parts Search
185 million searchable parts
(please enter a part number or hit search to begin)