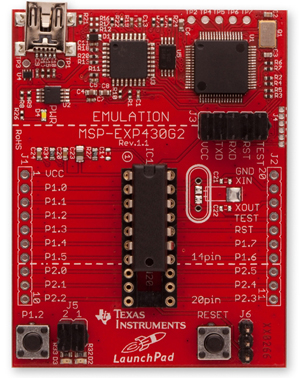 Texas Instruments Inc. has unveiled a $4.30 development kit targeted at the 25-cent, 16-bit microcontroller line that it rolled out earlier this year.

Known as LaunchPad, the new kit is intended to help engineers who want to transition their future applications from eight-bit to 16-bit microcontrollers (MCUs).

"We're trying to make the development process as simple as possible, so that they don't have to start from the ground, up, and deal with all the bits and bytes of programming," says Adrian Fernandez, a product marketing engineer for TI's MSP430 team. "By doing it with LaunchPad, everything is modular. All they have to worry about is their application and what they want to do with it."

The new product represents a departure from other development kits, which cost about $50 apiece on average, with some reaching as high as $200, TI says. As such, the electronics giant is targeting the new kit at two groups: engineers who want to graduate from eight- to 16-bit designs; and engineers who have never employed a TI MSP430 or an MCU of any kind.

TI released the so-called MSP430 Value Line family of microcontrollers in March, with the idea of going head-to-head with eight-bit devices in the low end of the $13 billion MCU market. Price for the 16-bit family, which offers more MIPS and lower power consumption than most eight-bit devices, start at just 25 cents apiece. To date, the company has released 27 separate types of Value Line devices, with the ultimate plan calling for about 100 of them in the next 15 months.

Applications for the device include capacitive touch and remote sensing, as well as lighting, safety and security, fitness equipment, and consumer electronics, such as 3-D glasses. At a TI Wiki page created for the product, users have posted videos of LaunchPad being applied in the creation of simple games, LED controllers and servo motor controllers.

Fernandez says that the development kit was created in response to demand from engineers. "We received a lot of customer feedback regarding the need for a low-cost development kit for (the Value Line)," he says.

He adds that the cost of the kit is encouraging developers to try it. "It's cheaper than a Happy Meal," he says. "We can't wait to see what our customers do with it."



You know you're an engineer if you chuckle whenever anyone says "centrifugal force," or you find yourself at the airport studying the baggage handling equipment.
The word "smart" is becoming the dumbest word around. It has been applied to almost every device and system in our homes. In addition to smartphones and smart meters, we now hear about smart clothing and smart shoes, smart lights, smart homes, smart buildings, and every trendy city today has its smart city project. Just because it has a computer inside and is connected to the Web, does not mean it is smart.
Are you being paid enough? Do you want a better job? According to a recent survey Manpower released just before Engineers Week, employers and engineers don't see eye-to-eye about the state of US engineers' skills and experience.
On Feb. 6, UMass Amherst announced that it would no longer be accepting Iranian graduate students in STEM fields. It has since abandoned that policy.

1
Two issues have been the bane of the plastics industry for as long as one can remember: The ban on plastic grocery bags and whether the use of bisphenol A (BPA) in plastics such as polycarbonate and PVC is harmful to humans.

Focus on Fundamentals consists of 45-minute on-line classes that cover a host of technologies. You learn without leaving the comfort of your desk. All classes are taught by subject-matter experts and all are archived. So if you can't attend live, attend at your convenience.