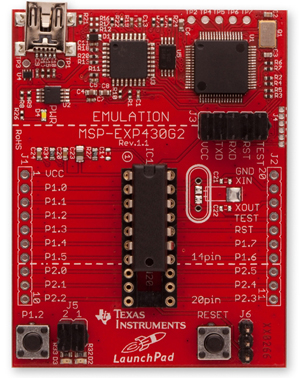 Texas Instruments Inc. has unveiled a $4.30 development kit targeted at the 25-cent, 16-bit microcontroller line that it rolled out earlier this year.

Known as LaunchPad, the new kit is intended to help engineers who want to transition their future applications from eight-bit to 16-bit microcontrollers (MCUs).

"We're trying to make the development process as simple as possible, so that they don't have to start from the ground, up, and deal with all the bits and bytes of programming," says Adrian Fernandez, a product marketing engineer for TI's MSP430 team. "By doing it with LaunchPad, everything is modular. All they have to worry about is their application and what they want to do with it."

The new product represents a departure from other development kits, which cost about $50 apiece on average, with some reaching as high as $200, TI says. As such, the electronics giant is targeting the new kit at two groups: engineers who want to graduate from eight- to 16-bit designs; and engineers who have never employed a TI MSP430 or an MCU of any kind.

TI released the so-called MSP430 Value Line family of microcontrollers in March, with the idea of going head-to-head with eight-bit devices in the low end of the $13 billion MCU market. Price for the 16-bit family, which offers more MIPS and lower power consumption than most eight-bit devices, start at just 25 cents apiece. To date, the company has released 27 separate types of Value Line devices, with the ultimate plan calling for about 100 of them in the next 15 months.

Applications for the device include capacitive touch and remote sensing, as well as lighting, safety and security, fitness equipment, and consumer electronics, such as 3-D glasses. At a TI Wiki page created for the product, users have posted videos of LaunchPad being applied in the creation of simple games, LED controllers and servo motor controllers.

Fernandez says that the development kit was created in response to demand from engineers. "We received a lot of customer feedback regarding the need for a low-cost development kit for (the Value Line)," he says.

He adds that the cost of the kit is encouraging developers to try it. "It's cheaper than a Happy Meal," he says. "We can't wait to see what our customers do with it."




5
Nissan Motor Co. is taking the electric vehicle into new territory, rolling out an exotic-looking three-seat concept car that combines sustainability with race car-like performance.

1
3D visualization is helping us express information in a way that's more informative and easier to decipher.

1
A new service lets engineers and orthopedic surgeons design and 3D print highly accurate, patient-specific, orthopedic medical implants made of metal -- without owning a 3D printer. Using free, downloadable software, users can import ASCII and binary .STL files, design the implant, and send an encrypted design file to a third-party manufacturer.

4
Google is developing robots for manufacturing, assembly, and warehouse tasks.

21
When Dick Neubert discovered that his fireplace's heatilators lost heat when not in use, he created a gadget to rectify the situation.


LATEST ARCHIVED BROADCAST
For industrial control applications, or even a simple assembly line, that machine can go almost 24/7 without a break. But what happens when the task is a little more complex? That's where the "smart" machine would come in. The smart machine is one that has some simple (or complex in some cases) processing capability to be able to adapt to changing conditions. Such machines are suited for a host of applications, including automotive, aerospace, defense, medical, computers and electronics, telecommunications, consumer goods, and so on. This discussion will examine what's possible with smart machines, and what tradeoffs need to be made to implement such a solution.



Datasheets.com Parts Search
185 million searchable parts
(please enter a part number or hit search to begin)