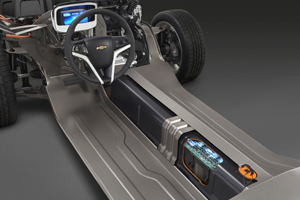 Lithium-ion battery technology may be considered a solution to the struggles of the auto industry in some quarters, but analysts are saying that manufacturers of the batteries may be facing an industry glut five years from now.

Studies by Lux Research Inc. and Pike Research indicate that lower-than-expected electric vehicle (EV) sales, combined with federal subsidies that encourage building of EV batteries, will create a situation where supply of lithium-ion batteries exceeds demand. Lux Research predicts that worldwide capacity of lithium-ion batteries will reach 18.2 GWh by 2015, with sales coming to just 11.0 GWh.

"When the U.S. government and other governments offer billions of dollars in subsidies to lithium-ion battery manufacturers to build new plants, they're going to build new plants," says Jacob Grose, an analyst for Lux Research. "Unlike the market, which is pretty good at matching supply and demand, governments aren't considering demand, and they're creating conditions that are just right for a glut."

Analysts say that the key to the situation lies in the public's acceptance of electric vehicle technology. Right now, projections of EV sales over the next five years are low, which doesn't bode well for the battery makers. In a 2009 study, Pike Research predicted that electrified vehicles would represent 1.12 percent of worldwide production in 2010, climbing to just 2.41 percent by 2015.
"To reach any level of success, you need to get a substantial portion of the car-buying public to buy into (EV technology), not just the environmentally conscious," Grose says.
No Shortage of Supply
Analysts estimate that there are currently about two dozen companies worldwide that are building monolithic electric vehicle batteries. A list of major automotive lithium-ion battery suppliers reads like a who's-who of auto industry suppliers, including such big names as Panasonic, LG Chem, Samsung, Johnson Controls and NEC, along with small up-and-comers, such as
A123 Systems
. Some battery manufacturers that now make lithium-ion cells for consumer markets, however, are said to be considering a move to vehicle batteries.
The good news for engineers is that a battery glut could result in a dramatic drop in costs. "The glut is a big reason why we are projecting prices of lithium-ion batteries to drop by a factor of two," Grose says. "The higher manufacturing volumes will contribute to the lower prices, but the downward pressure of an oversupply will play a big role."

Click here for a larger version

Prices of lithium-ion batteries are currently estimated at more than $900/kWh, but economies of scale and oversupply could push that number down to less than $500/kWh by 2015. If those numbers are accurate, big EV batteries, such as that of the Nissan Leaf, could drop from about $20,000 to $12,000. Chevy's Volt battery would go from about $14,000 to $8,000.
EV proponents suggest that two factors might change the potential oversupply scenario. High gasoline prices could motivate more consumers to lay out the larger initial cost for a pure EV or a plug-in hybrid. Also, continued government subsidies for car buyers could bring the costs of electric vehicles down to a level that's acceptable to a broader swath of consumers.
Given a $7,500 federal government subsidy, car buyers are already lining up to buy upcoming electric vehicles. At last count, more than 19,000 consumers had deposited $99 to reserve Nissan's all-electric Leaf, which doesn't debut until December. The Leaf costs $32,780, minus the $7,500 federal subsidy.
Still, analysts believe that some of the electric vehicle euphoria will die down over the next few years. In a blog earlier this year, senior analyst John Gartner of Pike Research wrote that automakers  "are viewing consumer demand for the not inexpensive (starting at $35K) and unproven electric vehicles with rose-colored glasses, with several companies expecting to individually sell more vehicles per year than Pike Research's estimate of the size of the entire market."
In a 2009 study, Gartner and fellow-analyst Clint Wheelock also predicted that consumers could "gravitate toward less expensive vehicles with smaller battery packs," such as plug-in hybrids that offer 20 miles of electric driving. Such vehicles, however, would use much smaller lithium-ion batteries than the pure electric cars, such as the Leaf and the Tesla Roadster. As a result, battery manufacturers would sell fewer cells and smaller batteries.
Some analysts believe that battery manufacturers may be able to sell some of their large-scale lithium-ion batteries to utilities, where they could be used for storage as part of the smart grid. The size of that opportunity, however, isn't fully understood yet.
Ultimately, researchers say that battery makers will have to hope that EV sales rise beyond their current projections.
"There are a lot of big battery manufacturers and a lot of start-ups," Grose says. "There's going to be no shortage of supply. Right now, the evidence points to an oversupply."