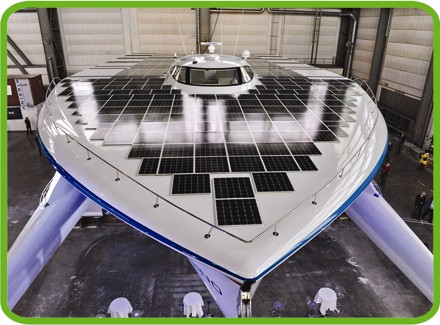 WAGO 758 Series IPCs are managing solar energy for Turanor PlanetSolar, reportedly the world's largest solar-powered boat. Conceived by Raphael Domjan, a Swiss eco-adventurer and PlanetSolar founder, Turanor is a catamaran research vessel for solar power utilization. Turanor will embark on a solar-powered 2011 worldwide tour, with planned stops in San Francisco and New York City. According to PlanetSolar, the 2011 tour will be the first solar-powered circumnavigation by any means of transport.

The boat has 500+ sq. meters of photovoltaic panels and packs 11 tons of batteries (with chassis), including the 388V lithium ion (NCA) battery. To support the multi-hull ship's planned average speed of 7.5 knots over 31,069 miles and 140 days, Turanor uses three of WAGO's 758 Series IPCs with control functionality and electrical components.
WAGO IPCs control charging for three batteries and 10 Drivetek Maximum Power Pick Trackers via 13 CAN buscouplers. These DC/DC converters are used to improve the PV panels' solar absorption. This also helps ensure safety for the four-member crew, as Turanor has no gasoline backups for steering/propulsion. WAGO's electrical components feature vibration- and thermal cycling-resistant, gas-tight connections for reliability in harsh marine environments.
See other
Design News
solar-related content:



We see Gadget Freak projects from all walks of life, but many of our most imaginative gadgets are created by budding engineers.
By experimenting with the photovoltaic reaction in solar cells, researchers at MIT have made a breakthrough in energy efficiency that significantly pushes the boundaries of current commercial cells on the market.
Advanced Micro Devices' latest release brings a cloud-based graphics boost, along with unparalleled performance, to the workstation.
In a world that's going green, industrial operations have a problem: Their processes involve materials that are potentially toxic, flammable, corrosive, or reactive. If improperly managed, this can precipitate dangerous health and environmental consequences.

4
With LEDs dropping in price virtually every year, automakers have begun employing them, not only on luxury vehicles, but on entry-level models, as well.


A quick look into the merger of two powerhouse 3D printing OEMs and the new leader in rapid prototyping solutions, Stratasys. The industrial revolution is now led by 3D printing and engineers are given the opportunity to fully maximize their design capabilities, reduce their time-to-market and functionally test prototypes cheaper, faster and easier. Bruce Bradshaw, Director of Marketing in North America, will explore the large product offering and variety of materials that will help CAD designers articulate their product design with actual, physical prototypes. This broadcast will dive deep into technical information including application specific stories from real world customers and their experiences with 3D printing. 3D Printing is




Datasheets.com Parts Search
185 million searchable parts
(please enter a part number or hit search to begin)