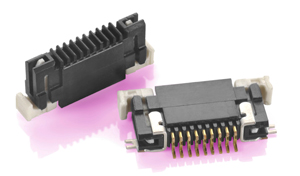 DSM, a Dutch materials company, is exhibiting new nylon applications at K 2010 as part of its ongoing transformation toward higher-performance materials.

The primary development focus is on a nylon that DSM describes as the first new polymer developed in the 21st century — a material first designated PA4T and now called Stanyl ForTii. Announced in 2009, Stanyl ForTii is a halogen-free, flame- retardant, high-temperature polyamide.

The "T" represents terephthalate. "The halogen-free flame retardants work better in 4/T than in 4/6," Wilfred van Pelt, DSM global technical product manager, said  in a briefing with reporters at DSM's Chemelot production and research site in Geleen, The Netherlands. The chemistry used to provide flame retardance is proprietary, but Haventh did say it is phosphor based.

On June 22, DSM inaugurated its new Stanyl ForTii production unit, which quadruples capacity.

Gart Kostermans, project director Stanyl ForTii of DSM Engineering Plastics, said, "Stanyl ForTii supports market trends that call for miniaturization and the convergence of electronic devices. It is our expectation, based on solid customer programs in hand, that we will utilize this expansion fully in the very near future."

Stocko Contact, a German manufacturer of electromechanical components, plans to switch all its SMT connectors to Stanyl ForTii. Two new series of pin connectors are designed mainly for use in dishwashers, washing machines, dryers and refrigerators.

The connectors can be assembled with lead-free reflow soldering, making this the first RAST platform that can be reflow soldered.

RAST is a new connector standard that was developed to avoid mismatched wires.

"Stocko is the first company to introduce SMT RAST solutions with significant cost reduction compared to previous through-hole solutions," said Michael Degenhardt, design engineer for connectors at Stocko Contact.

Stanyl ForTii properties include dimensional stability, full compatibility with lead-free reflow soldering, high stiffness and mechanical strength at elevated temperatures, and a high melting and glass transition point.

Stanyl ForTii meets miniaturization requirements for electronic devices such as cell phones and computers. Potential electronics applications include memory card connectors, CPU sockets, high-temperature bobbins, switches or notebook computer memory module connectors. In automotive markets, the material supports developments in under-the-hood applications for electrical systems, air/fuel and powertrain components. In the lighting industry, trials have been conducted for light-emitting diode packages and modules due to high reflectivity and high temperature stability.

In another application development, FCI, a supplier of interconnect products, has approved halogen-free V-0 Stanyl ForTii for its FPC connectors product line of optical disk drives and is currently expanding the usage on various other connectors and sockets.

Optical disc drives (ODDs) are an integral part of computers and stand-alone consumer appliances such as CD, DVD or Blu-ray disk drives. A crucial part of such an optical disc drive is the pickup head, consisting of the laser, a lens for focusing the laser beam and photodiodes detecting the light reflected from the surface of the disc. The electrical connection to this critical component is made by flexible printed circuit (FPC) connectors.






1
The popularity of Pokemon Go may be break open a new rush of augmented reality products.
Engineers in Australia have discovered a mechanism that could allow for the design of new composite materials for light harvesting and optoelectronics.
Here's a blast from the Gadget Freak past. Check out these gadgets, from telescope warming to keyboards on your fingers
A new method of modeling how they are created with chemical vapor deposition (CVD) could reduce the cost of carbon nanostructures used for for research and commercial applications, including advanced sensors and batteries.

2
BMW has already incorporated more than 10,000 3D-printed parts in the Rolls-Royce Phantom and intends to expand the use of 3D printing in its cars even more in the future. Meanwhile, Daimler has started using additive manufacturing for producing spare parts in Mercedes-Benz Trucks.

Focus on Fundamentals consists of 45-minute on-line classes that cover a host of technologies. You learn without leaving the comfort of your desk. All classes are taught by subject-matter experts and all are archived. So if you can't attend live, attend at your convenience.