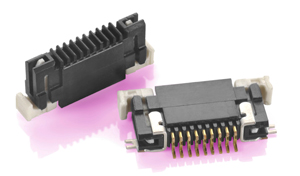 DSM, a Dutch materials company, is exhibiting new nylon applications at K 2010 as part of its ongoing transformation toward higher-performance materials.

The primary development focus is on a nylon that DSM describes as the first new polymer developed in the 21st century — a material first designated PA4T and now called Stanyl ForTii. Announced in 2009, Stanyl ForTii is a halogen-free, flame- retardant, high-temperature polyamide.

The "T" represents terephthalate. "The halogen-free flame retardants work better in 4/T than in 4/6," Wilfred van Pelt, DSM global technical product manager, said  in a briefing with reporters at DSM's Chemelot production and research site in Geleen, The Netherlands. The chemistry used to provide flame retardance is proprietary, but Haventh did say it is phosphor based.

On June 22, DSM inaugurated its new Stanyl ForTii production unit, which quadruples capacity.

Gart Kostermans, project director Stanyl ForTii of DSM Engineering Plastics, said, "Stanyl ForTii supports market trends that call for miniaturization and the convergence of electronic devices. It is our expectation, based on solid customer programs in hand, that we will utilize this expansion fully in the very near future."

Stocko Contact, a German manufacturer of electromechanical components, plans to switch all its SMT connectors to Stanyl ForTii. Two new series of pin connectors are designed mainly for use in dishwashers, washing machines, dryers and refrigerators.

The connectors can be assembled with lead-free reflow soldering, making this the first RAST platform that can be reflow soldered.

RAST is a new connector standard that was developed to avoid mismatched wires.

"Stocko is the first company to introduce SMT RAST solutions with significant cost reduction compared to previous through-hole solutions," said Michael Degenhardt, design engineer for connectors at Stocko Contact.

Stanyl ForTii properties include dimensional stability, full compatibility with lead-free reflow soldering, high stiffness and mechanical strength at elevated temperatures, and a high melting and glass transition point.

Stanyl ForTii meets miniaturization requirements for electronic devices such as cell phones and computers. Potential electronics applications include memory card connectors, CPU sockets, high-temperature bobbins, switches or notebook computer memory module connectors. In automotive markets, the material supports developments in under-the-hood applications for electrical systems, air/fuel and powertrain components. In the lighting industry, trials have been conducted for light-emitting diode packages and modules due to high reflectivity and high temperature stability.

In another application development, FCI, a supplier of interconnect products, has approved halogen-free V-0 Stanyl ForTii for its FPC connectors product line of optical disk drives and is currently expanding the usage on various other connectors and sockets.

Optical disc drives (ODDs) are an integral part of computers and stand-alone consumer appliances such as CD, DVD or Blu-ray disk drives. A crucial part of such an optical disc drive is the pickup head, consisting of the laser, a lens for focusing the laser beam and photodiodes detecting the light reflected from the surface of the disc. The electrical connection to this critical component is made by flexible printed circuit (FPC) connectors.





Remote monitoring now looks beyond the individual motor or conveyor and instead views the process from end to end.
BASF is partnering with Hyundai on a high-performance concept car that showcases both eco-friendly, sustainable materials and materials to enable lighter weight cars.
In an move to ease the use of multiple product design tools, PLM provider Aras and EDM company Zuken have integrated their products.
General Motors is putting an off-road twist on hydrogen fuel cell technology with an imposing new pickup demonstrator called the Chevrolet Colorado ZH2.
Fine powder printing of industry-standard metal and ceramic powders with a grain size of less than 10 microns is now available from industrial 3D printer maker ExOne for its Innovent printer.

Focus on Fundamentals consists of 45-minute on-line classes that cover a host of technologies. You learn without leaving the comfort of your desk. All classes are taught by subject-matter experts and all are archived. So if you can't attend live, attend at your convenience.
Next Course September 27-29: