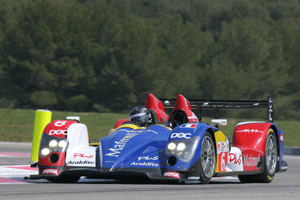 In a fast-rising convergence of functional plastics and electronics, a flexible OLED (organic light-emitting diode) on foil debuted this week on a LeMans race car.

The technology moved out of the lab as part of a multi-company, multi-university effort that incubated in the Holst Centre, an independent open-innovation R&D community in Eindhoven, The Netherlands. The OLED technology innovation was part of a trend toward pre-competitive engineering collaboration in which major companies can avoid risk, but still profit from their inventions.

"One of our targets has been to make OLEDs twice as efficient as they had been previously," says Paul Blom, scientific director of the Holst Centre. Experts feel that once the technology is optimized over the next three years, these lightweight, flexible devices will use as much as 70 percent less energy than currently used, conventional light sources.

In a demonstration project, OLEDs were embedded in a carbon-fiber-reinforced plastic composite used to make side mirrors on a car from the French racing team Oreca, which finished fourth in the 24-hour French competition, also known as the "Grand Prix of Endurance."

"You can easily integrate OLEDs into three-dimensional structures, unlike other types of lighting," says Bernhard Sailer, a global marketing manager of Huntsman Advanced Materials, one of the participants in the Holst project. Huntsman developed new barrier technology to help prevent the development of black spots caused by penetration of water into the functional polymer layers.

Pierre Seze, composite department manager at Oreca, says: "The integration of the OLED system in our carbon fiber pre-preg represents several advantages for our race car. The first one is the weight. This technology fit perfectly with the very demanding constraints of endurance race such Le Mans 24 Hours."

Sailer said Huntsman wanted to demonstrate with the mirror project that while OLEDs are not yet ready for prime time, they are moving closer. He thinks commercial applications are two to three years away and probably will begin with niche applications, such as ski boots, where buyers are not extremely cost sensitive.

While Huntsman is pursuing a polymer approach to barrier protection, a research team at Enindhoven University, also a Holst Centre collaborator, is exploring the potential of plasma-enhanced deposition and etching to provide protection for flexible electronic devices, including OLEDs. A lab headed by M.C.M van de Sanden is exploring the optimal combination of organic and inorganic materials that can be deposited with plasma techniques.

Another important target in the commercialization of OLEDs is development of roll-to-roll processing technology using webs of polymers. Testing is now taking place on the much slower sheet-to-sheet system.

Thermal sensitivity of plastics limits the process now primarily to a very expensive polymer, polyimide. Holst researchers want to develop roll-to-roll processes for polyethylene naphthalene (PEN), or even other less expensive members of the polyester family.

In one major leap, a company called NeoDec that was recently spun out of the research cocoon at Holst, says it has developed a polymer printing technology that takes place at room temperature, theoretically creating the opportunity to use most thermoplastics.

Some of the research projects at the Holst Centre are funded by the Dutch Polymer Institute, an organization funded partly by the Dutch government and partly by company and university researchers. Corporate R&D budgets shrank due to extreme automotive cost cutting in the 1990s, and companies agreed to conduct early research on projects such as flexible electronics as a group.

"It began as an experiment, and after 13 years, we have had significant success," said Jacques Joosten, director of the Dutch Polymer Institute. He pointed to two projects on flexible electronics as examples: the plasma deposition work and a separate project aimed at improving efficiency of polymer systems in photovoltaic cells.

The Holst Centre was set up in 2005 by IMEC (Flanders, Belgium) and TNO (The Netherlands) with support from the Dutch Ministry of Economic Affairs and the Government of Flanders. It is named after Gilles Holst, a Dutch pioneer in research and development and the first director of Philips Research.





Factory floor engineers may soon be able to operate machinery and monitor equipment status simply by tapping their eyeglasses.
GE Aviation not only plans to use 3D printing to mass-produce metal parts for its LEAP jet engine, but it's also developing a separate technology for 3D-printing metal parts used in its other engines.

2
In this TED presentation, Wayne Cotter, a computer engineer turned standup comic, explains why engineers are natural comedians.

0
IBM's new SyNAPSE chip makes it possible for computers to both memorize and compute simultaneously.
The "Space Kid," 11, will be one of the first civilians to have his design manufactured in space by NASA, thanks to the City X Project, which inspires kids to think about new 3D-printed inventions that could be useful for humans living in space.

Focus on Fundamentals consists of 45-minute on-line classes that cover a host of technologies. You learn without leaving the comfort of your desk. All classes are taught by subject-matter experts and all are archived. So if you can't attend live, attend at your convenience.
Next Class: September 30 - October 2