Automation & Motion Control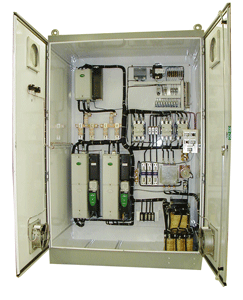 Two 150-hp regenerative crane system drive retrofits on the 10-ton overhead cranes at the Covanta Plymouth Renewable Energy plant in Conshohocken, PA, are yielding savings of more than $160,000 per year, including about $34,000 of energy savings alone.

Known locally as the "trash-to-steam" plant, it controls the waste flow for 24 municipalities, a total of more than 1,200 tons per day, and generates more than 32 MW of renewable energy. The facility is equipped with a water-cooled turbine generator condenser to convert steam to water for continuous cycling of water through the boilers. Two overhead cranes are used around-the-clock for handling the trash and moving it to the infeed on two reciprocating grate and water wall furnaces that process 608 tons per day.

These cranes were proving to be a maintenance nightmare, with considerable downtime and energy costs spiralling out of control. The drive systems on the cranes wasted the excess energy created during braking of the hoist in the form of heat generated by a wound rotor resistor. But the heat also created other problems, requiring air conditioning to bring the control environment within the required 104F. In addition, the control system created excessive wear and tear on all components with brake pad maintenance running at some $18,000 per year (per crane) and quarterly motor rebuilds at a maintenance cost of $48,000 each year. Almost continuous maintenance created other cost as well because of considerable downtime for both cranes.

The company at that time, Montenay Energy Resources, brought in local distributor Bearings and Drives Ltd., who in turn put the Control Techniques Drive Center in York, PA on the project. After surveying the cranes, their recommendation for improving the situation was the installation of two regenerative crane control systems.

Each crane now regenerates the excess energy using a Control Techniques' Unidrive SPM modular ac drive that operates in regenerative mode to feed power back into the plant's electrical supply. Another Unidrive SPM provides hoist control.

Each 150-hp, four-quadrant drive system gives substantial energy savings of $10,000-12,000 per year with very low harmonic distortion (less than 4 percent) and maintains a near unity power factor throughout the entire speed range. In addition, because of the virtual elimination of heat generation, the need for air conditioning is eliminated, which produces an additional energy savings of another $5,000 annually per crane.

Substantially reducing mechanical wear and tear and controlling the cranes' acceleration and deceleration means no more direct online starting, and a substantial reduction in the need for maintenance. The cost savings across the board has provided very fast payback.

The Unidrive SP Modular drives range offers flexible power from 60 to 2,900 hp on a common dc bus system with or without an active front end (regenerative, four-quadrant operation). Very high current motors may be controlled using a multi-drive modular system. The drives are configurable into five operating modes including open and closed loop, vector, servo and regenerative modes. This range gives connectivity for most industry-standard networks and accepts 14 position feedback protocols. With a range of plug-in module options, its onboard PLC can be supplemented with a variety of programmable modules.





Visualization and virtual reality tools allow design engineers to build virtual prototypes that can be manipulated collaboratively. You can swap out materials and store data within the file.
Being in an incubator can be analogous to shopping in a "big box retailer." You can find many things you need under one roof along with moral support to sustain and move your startup to a successful launch.
Scientists at four major universities in Europe have released a joint paper describing the use of light to put active materials into motion and to control that motion, producing lifelike mechanisms that may or may not contain living organisms, but can produce useful work.
Autodesk and Siemens PLM have reached an agreement to create seamless integration between their design software files.
Researchers have developed a lightweight, solar-energy-harvesting mesh of batteries that stretches, making it well-suited to wearable tech.

Focus on Fundamentals consists of 45-minute on-line classes that cover a host of technologies. You learn without leaving the comfort of your desk. All classes are taught by subject-matter experts and all are archived. So if you can't attend live, attend at your convenience.