Automation & Motion Control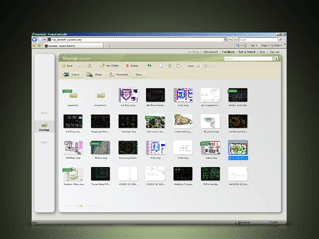 Autodesk filled in some pieces of its vision for putting design tools in the cloud, releasing new details on its Project Butterfly collaboration tool and announcing two new Software-as-a-Service initiatives surrounding Inventor and its MoldFlow offering.

Project Butterfly, as described by Tal Weiss, lead software development manager at Autodesk, allows AutoCAD users to view, edit and collaborate in real time on DWG files online. With this cloud computing technology, anyone with a Web browser can log onto a site and access the same version of a file as opposed to the current way many engineering teams collaborate, simply by e-mailing files around.

"Our intent is to enable AutoCAD users to take any AutoCAD file and upload it to the cloud using this application, and share it with anyone at a remote site without the need for the software," says Weiss, who came to Autodesk last November when his company, VisualTao, was acquired as the foundation technology for Project Butterfly. "The only thing they need is a browser — there is nothing installed on the disk and they can pan and zoom, annotate and edit files."

Dave McGee, lead CAD technician at Lacy and Ebeling Engineering Inc., a structural and industrial engineering firm, has experimented with the Project Butterfly technology preview. Most recently, he and a client at a remote site conducted a co-editing session on a 2-D AutoCAD drawing showcasing a load-out facility for a truck. "Rather than the time-consuming task of having to send him a PDF, then calling him and having him tell me he wanted something in the northwest corner, we didn't have to do any of that," McGee says. "He was looking at his 2-D drawing, I was looking at mine, and I just followed his pointer and it was pretty obvious what he wanted."

Weiss wouldn't say when Project Butterfly would be commercially available. Users can download the technology preview at Project Butterfly.

In related news, Autodesk announced a couple of other SaaS efforts: Project Cumulus, which leverages the cloud computing model to deliver more computational horsepower for MoldFlow plastic design simulations; and Project Centaur, which lets Inventor users offload simulation tasks to the cloud. Both technology pilots, currently available to select Autodesk customers, leverage the cloud to lets users perform simulations they traditionally wouldn't be able to do on the desktop.

"We're letting users leverage the untapped potential compute power of the cloud to bring optimization into the equation," says Jeff Wymer, Autodesk senior product line manager, digital simulation. "We're allowing the MoldFlow designer to optimize their design and get the best results with unrivaled performance and capacity compared to the desktop."

The new technology will run as a lightweight desktop, allowing MoldFlow users to set up their geometries and input locally. Once they hit "solve," the lightweight application will transmit the data to the cloud for computation and will return the results back to the desktop when finished. The amount of processing time will vary depending on the complexity of the design, however, the technology works asynchronously so it allows users to conduct normal computing during the simulation.

Project Centaur, aimed at mechanical engineers, is focused on the pervasive problem of design optimization, helping users reduce material weight while achieving quality targets. Similar to Project Cumulus, Project Centaur will run as a small plug-in on the desktop, allowing users to retain the user of their computer while the simulation is in progress on the cloud. Project Centaur is also aiming to push the envelope in terms of usability, delivering simulation capabilities in such manner that they can be utilized by the broad spectrum of mechanical engineers, not just simulation experts, Wymer says.

There is no official availability date for either Project Centaur or Project Cumulus.




0
BMW has already incorporated more than 10,000 3D-printed parts in the Rolls-Royce Phantom and intends to expand the use of 3D printing in its cars even more in the future. Meanwhile, Daimler has started using additive manufacturing for producing spare parts in Mercedes-Benz Trucks.

0
Researchers have been developing a number of nano- and micro-scale technologies that can be used for implantable medical technology for the treatment of disease, diagnostics, prevention, and other health-related applications.

1
SABIC's lightweighting polycarbonate glazing materials have appeared for the first time in a production car: the rear quarter window of Toyota's special edition 86 GRMN sports car, where they're saving 50% of its weight compared to conventional glass.

14
Take a look at some of the best movies that include self-aware machines.

2
An engineer in the United Kingdom has found inspiration in nature for the design of bridges that are far stronger and more durable than current designs.

Focus on Fundamentals consists of 45-minute on-line classes that cover a host of technologies. You learn without leaving the comfort of your desk. All classes are taught by subject-matter experts and all are archived. So if you can't attend live, attend at your convenience.