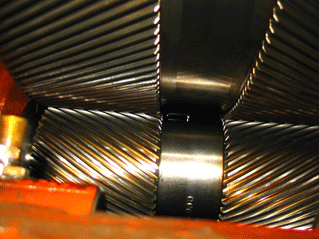 The growth and promise of wind turbines is fueling technology development focused on the manufacturing of larger, more precise and optimized gearing. The need for better performance, quieter operation and higher efficiency means that the primary goal is to limit losses, select proper sealing elements and control other significant factors that reduce efficiency.

"What's happening right now will be the future of the gear industry because of the number of units that will be manufactured and installed with a main purpose of achieving longer life," says N.K. Chinnusamy, president of Excel Gear Inc. "One way to achieve long life is new technology and computer tools that optimize the geometry of the gears and, for example, optimized root fillet geometry that improves both life and load carrying capacity."

One objective is to make components lighter, and new materials being developed will help achieve that goal. Developments with surface finish such as REM technology and electro polishing, some of which are being used in the racing industry, are having some real significant impact in gear life.

Chinnusamy says there are many challenges in machining gears for wind turbines. Gears for wind turbine applications are typically large in diameter and have wide face widths, requiring very exacting material composition and heat-treatment processing. The gear design must be optimized to insure low rolling resistance and long life, to minimize costs of maintenance, down time, and repair of the gear box assemblies once they have been commissioned in the field. Every step in the manufacturing phase of these gears must be carefully processed, documented and controlled to achieve the high quality, consistency, accuracy and reliability that is demanded for operation in these environments.

The use of carburized steel for these gears is common and the associated heat treatments and stress-relief operations have to be exacting to minimize part distortion and growth, as well as to achieve the proper metallurgical properties required. Often, a preheat treatment of the forging or bar stock is necessary on large gears to minimize part distortion.

Chinnusamy says heat treatment can cause cracks, so careful processing with predetermination of stock allowance for grinding and final case depth must be considered. Inspection for cracks with magnetic particle inspection and for grinding burns utilizing nital etching is an important inspection tool. Plus, off center crown grinding of the tooth geometry may be needed to properly distribute the load on the gear teeth.

To efficiently make gears for this application, Chinnusamy says there are often modifications needed in the tooling. Rigid, heavy-duty hobbing machines are needed for the coarse pitch gears, using roughing hobs or gear milling (gashing) cutters. Likewise, coarse pitch diamond dressing rolls and special grinding wheel abrasives are required for the large, high-accuracy gear grinders to produce efficient, accurate results and to prevent grinding burns and cracks.

Cutting fluids used must have the proper viscosity, the right amount of extreme pressure additives, and must be directed to the exact location of the work piece and cutting tool interface to maximize results. These fluids have to be routinely sampled and adjusted for optimum results.

In building the gearbox, it's also important to establish the correct bearing clearances/preloads and proper gearbox operating temperature that is critical to long life. Sophisticated measuring techniques with bearing inspection gages can only insure these results. The type and method of lubrication and proper sealing weighs heavily on the performance of a gearbox. The verification of gearbox performance through computerized analysis and testing is a crucial step to insuring long life.

"The critical factor here, as with all similar power transmission applications, is that the gears are properly designed and manufactured," says Chinnusamy.  "The other mechanical components that make up the assembly, along with the gearing, must be applied and designed so the overall system performance does not have any shortcomings that could affect the performance and life of the unit."




5
The engineers and inventors of the post WWII period turned their attention to advancements in electronics, communication, and entertainment. Breakthrough inventions range from LEGOs and computer gaming to the integrated circuit and Ethernet -- a range of advancements that have little in common except they changed our lives.
The age of touch could soon come to an end. From smartphones and smartwatches, to home devices, to in-car infotainment systems, touch is no longer the primary user interface. Technology market leaders are driving a migration from touch to voice as a user interface.
Soft starter technology has become a way to mitigate startup stressors by moderating a motor's voltage supply during the machine start-up phase, slowly ramping it up and effectively adjusting the machine's load behavior to protect mechanical components.
A new report from the National Institute of Standards and Technology (NIST) makes a start on developing control schemes, process measurements, and modeling and simulation methods for powder bed fusion additive manufacturing.
If you're developing a product with lots of sensors and no access to the power grid, then you'll want to take note of a Design News Continuing Education Center class, "Designing Low Power Systems Using Battery and Energy Harvesting Energy Sources."

Focus on Fundamentals consists of 45-minute on-line classes that cover a host of technologies. You learn without leaving the comfort of your desk. All classes are taught by subject-matter experts and all are archived. So if you can't attend live, attend at your convenience.
Last Archived Class