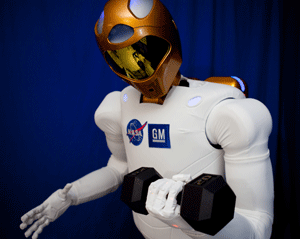 NASA will launch the first human-like robot to space later this year to become a permanent resident of the International Space Station. Robonaut 2, or R2, was developed jointly by NASA and General Motors under a cooperative agreement to develop a robotic assistant that can work alongside humans, whether they are astronauts in space or workers at GM manufacturing plants on Earth.

"GM and NASA both share the same vision that one day humans and robots will work together side by side and in a safe way. We were struck with the range of the tasks that Robonaut could do in helping astronauts, and the similarity of those tasks to the range of assembly tasks that our people need help with. That similarity and common ground really fostered the relationship that has culminated in what you see demonstrated here today," says Dr. Roland Menassa, GM's Advanced Robotics Manager in the Manufacturing Systems Research Lab.     

The 300-lb R2 consists of a head and a torso with two arms and two hands. R2 will launch on Space Shuttle Discovery as part of the STS-133 mission planned for September. Once aboard the station, engineers will monitor how the robot operates in zero gravity.

"This project exemplifies the promise that a future generation can have robots both in space and on Earth, not as replacements for humans but as companions that can carry out key supporting roles," says John Olson, director of NASA's Exploration Systems Integration Office at NASA Headquarters in Washington. "The combined potential of humans and robots is a perfect example of the sum equaling more than the parts. It will allow us to go farther and achieve more than we can probably even imagine today."

The dexterous robot not only looks like a human but is also designed to work like one. With human-like hands and arms, R2 is able to use the same tools station crew members use. In the future, the greatest benefits of humanoid robots in space may be as assistants or stand-ins for astronauts during spacewalks, or for tasks too difficult or dangerous for humans. For now, R2 is still a prototype and does not have adequate protection needed to exist in the extreme temperatures outside the space station.

Testing the robot inside the station will provide an important intermediate environment. R2 will be tested in microgravity and subjected to the station's radiation and electromagnetic interference environments. The interior operations will provide performance data about how a robot may work side-by-side with astronauts. As development activities progress on the ground, station crews may be provided hardware and software to update R2 to enable it to do new tasks.

R2 is undergoing extensive testing in preparation for its flight. Vibration, vacuum and radiation testing along with other procedures being conducted on R2 also benefit the team at GM. The automaker plans to use technologies from R2 in future advanced vehicle safety systems and manufacturing plant applications.

"The extreme levels of testing R2 has undergone as it prepares to venture to the International Space Station are on par with the validation our vehicles and components go through on the path to production," says Alan Taub, vice president of GM's global research and development. "The work done by GM and NASA engineers also will help us validate manufacturing technologies that will improve the health and safety of our GM team members at our manufacturing plants throughout the world. Partnerships between organizations such as GM and NASA help ensure space exploration, road travel and manufacturing can become even safer in the future."




5
The engineers and inventors of the post WWII period turned their attention to advancements in electronics, communication, and entertainment. Breakthrough inventions range from LEGOs and computer gaming to the integrated circuit and Ethernet -- a range of advancements that have little in common except they changed our lives.
The age of touch could soon come to an end. From smartphones and smartwatches, to home devices, to in-car infotainment systems, touch is no longer the primary user interface. Technology market leaders are driving a migration from touch to voice as a user interface.
Soft starter technology has become a way to mitigate startup stressors by moderating a motor's voltage supply during the machine start-up phase, slowly ramping it up and effectively adjusting the machine's load behavior to protect mechanical components.
A new report from the National Institute of Standards and Technology (NIST) makes a start on developing control schemes, process measurements, and modeling and simulation methods for powder bed fusion additive manufacturing.
If you're developing a product with lots of sensors and no access to the power grid, then you'll want to take note of a Design News Continuing Education Center class, "Designing Low Power Systems Using Battery and Energy Harvesting Energy Sources."

Focus on Fundamentals consists of 45-minute on-line classes that cover a host of technologies. You learn without leaving the comfort of your desk. All classes are taught by subject-matter experts and all are archived. So if you can't attend live, attend at your convenience.
Last Archived Class