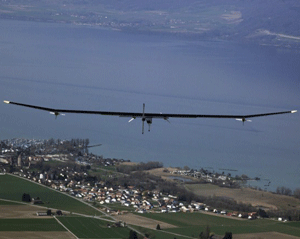 A manned solar-powered aircraft strongly supported by major materials' companies flew for an extended period for the first time, going no higher than 4,000 ft above the Swiss countryside. Powered by 12,000 solar cells, the goal of the Solar Impulse is to fly around the world, demonstrating the feasibility of solar aircraft. 

"This first mission was the most risky phase of the entire project," says André Borschberg, CEO and co-founder of the project. "Never has an airplane as large and light flown before. The aim was to verify the prototype's behavior in flight and to test its reaction to various maneuvers. The success of this first flight allows us to envisage the further program with greater serenity."

Solar Impulse program founder Bertrand Piccard called the inaugural flight a crucial step toward fulfilling his goal of circumnavigating the globe in such an unusual aircraft. In a statement from the Solar Impulse team, Piccard said he was relieved to have the first flight completed after seven years of hard work.

 "We still have a long way to go until the night flights and an even longer way before flying around the world, but today, thanks to the extraordinary work of an entire team, an essential step toward achieving our vision has been taken", he said. "Our future depends on our ability to convert rapidly to the use of renewable energies. Solar Impulse is intended to demonstrate what can be done already today by using these energies and applying new technologies that can save natural resources."

The Solar Impulse has the wingspan of a jumbo jet to hold all of the solar cells, yet is lightweight to minimize power requirements. At 208 ft, the aircraft's wingspan is about 10 ft more than Boeing's 787 Dreamliner. It weighs just 3,500 lb loaded for flight.

Much of the credit goes to polymer companies who are partnering on the project.

Contributions from the Solvay group include:


Research into optimum solutions and materials, especially through the definition of composite structure materials and high-performance plastics for metal replacement.
The production and/or selection of high-performance polymers for critical applications, such as watertight joints and fasteners. Bolts and screws, for example, are made from PrimoSpire SRP from Solvay Advanced Polymers.
Methods of encapsulating and assembling photovoltaic cells using the structural material selected for the plane.
Research into the production and utilization of appropriate photovoltaic materials.
Solutions for improved (Ion-polymer) batteries.
Selection of high-performance thermal insulation materials.
Non-linear numerical simulation using software adapted to suit large-scale parts and extreme conditions.
Mechanical evaluation and testing of materials in extreme conditions.
Bayer MaterialScience is also contributing materials' knowhow to the project.




4
With LEDs dropping in price virtually every year, automakers have begun employing them, not only on luxury vehicles, but on entry-level models, as well.

9
The 3D printing revolution seems to have a knack for quickly moving technology ahead by way of collaborative effort and even a little friendly competition -- all of course in the name of scientific advancement.

8
Littelfuse Inc. has created a NASA Exploration & Discovery Experience for the engineering community as part of its 2013 Speed2Design promotion.

0
Advantech has launched a new series of motion-control I/O modules to meet the increased demands that come with more distributed industrial systems that require control of a growing number of axes and devices.

26
Using almost 200 light-emitting diodes in the front and back of the new 2014 CTS, Cadillac designers are showing how LEDs can change the character of a vehicle.


A quick look into the merger of two powerhouse 3D printing OEMs and the new leader in rapid prototyping solutions, Stratasys. The industrial revolution is now led by 3D printing and engineers are given the opportunity to fully maximize their design capabilities, reduce their time-to-market and functionally test prototypes cheaper, faster and easier. Bruce Bradshaw, Director of Marketing in North America, will explore the large product offering and variety of materials that will help CAD designers articulate their product design with actual, physical prototypes. This broadcast will dive deep into technical information including application specific stories from real world customers and their experiences with 3D printing. 3D Printing is




Datasheets.com Parts Search
185 million searchable parts
(please enter a part number or hit search to begin)