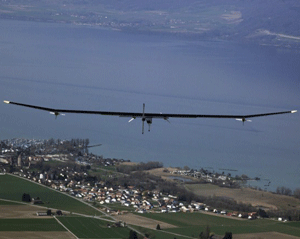 A manned solar-powered aircraft strongly supported by major materials' companies flew for an extended period for the first time, going no higher than 4,000 ft above the Swiss countryside. Powered by 12,000 solar cells, the goal of the Solar Impulse is to fly around the world, demonstrating the feasibility of solar aircraft. 

"This first mission was the most risky phase of the entire project," says André Borschberg, CEO and co-founder of the project. "Never has an airplane as large and light flown before. The aim was to verify the prototype's behavior in flight and to test its reaction to various maneuvers. The success of this first flight allows us to envisage the further program with greater serenity."

Solar Impulse program founder Bertrand Piccard called the inaugural flight a crucial step toward fulfilling his goal of circumnavigating the globe in such an unusual aircraft. In a statement from the Solar Impulse team, Piccard said he was relieved to have the first flight completed after seven years of hard work.

 "We still have a long way to go until the night flights and an even longer way before flying around the world, but today, thanks to the extraordinary work of an entire team, an essential step toward achieving our vision has been taken", he said. "Our future depends on our ability to convert rapidly to the use of renewable energies. Solar Impulse is intended to demonstrate what can be done already today by using these energies and applying new technologies that can save natural resources."

The Solar Impulse has the wingspan of a jumbo jet to hold all of the solar cells, yet is lightweight to minimize power requirements. At 208 ft, the aircraft's wingspan is about 10 ft more than Boeing's 787 Dreamliner. It weighs just 3,500 lb loaded for flight.

Much of the credit goes to polymer companies who are partnering on the project.

Contributions from the Solvay group include:


Research into optimum solutions and materials, especially through the definition of composite structure materials and high-performance plastics for metal replacement.
The production and/or selection of high-performance polymers for critical applications, such as watertight joints and fasteners. Bolts and screws, for example, are made from PrimoSpire SRP from Solvay Advanced Polymers.
Methods of encapsulating and assembling photovoltaic cells using the structural material selected for the plane.
Research into the production and utilization of appropriate photovoltaic materials.
Solutions for improved (Ion-polymer) batteries.
Selection of high-performance thermal insulation materials.
Non-linear numerical simulation using software adapted to suit large-scale parts and extreme conditions.
Mechanical evaluation and testing of materials in extreme conditions.
Bayer MaterialScience is also contributing materials' knowhow to the project.



You know you're an engineer if you chuckle whenever anyone says "centrifugal force," or you find yourself at the airport studying the baggage handling equipment.

2
The word "smart" is becoming the dumbest word around. It has been applied to almost every device and system in our homes. In addition to smartphones and smart meters, we now hear about smart clothing and smart shoes, smart lights, smart homes, smart buildings, and every trendy city today has its smart city project. Just because it has a computer inside and is connected to the Web, does not mean it is smart.
Are you being paid enough? Do you want a better job? According to a recent survey Manpower released just before Engineers Week, employers and engineers don't see eye-to-eye about the state of US engineers' skills and experience.
On Feb. 6, UMass Amherst announced that it would no longer be accepting Iranian graduate students in STEM fields. It has since abandoned that policy.

3
Two issues have been the bane of the plastics industry for as long as one can remember: The ban on plastic grocery bags and whether the use of bisphenol A (BPA) in plastics such as polycarbonate and PVC is harmful to humans.

Focus on Fundamentals consists of 45-minute on-line classes that cover a host of technologies. You learn without leaving the comfort of your desk. All classes are taught by subject-matter experts and all are archived. So if you can't attend live, attend at your convenience.