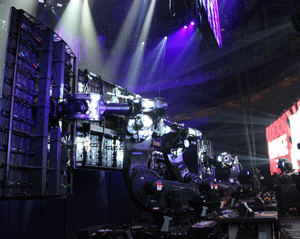 Five of ABB's largest and most powerful robots that use inverse kinematics to create unique robotic motions are taking the stage with Bon Jovi for the band's Circle Tour. Patented RoboScreen™ technology with large LED video panels attached to the robot's articulated arms delivers an unprecedented concert experience. Robots are choreographed to be part of the show, using inverse kinematics and advanced motion control to move in sync to the music.

The Bon Jovi concert experience has always been a marvel of sight and sound, and The Circle Tour, which opened Feb. 19 in Seattle, has taken this production innovation to a new level. A primary component of the visual intrigue of the show is five ABB IRB 7600 industrial robots positioned toward the back of the stage, each with a 6 x 9 ft LED video panel attached to their articulated arm. 

The robots and screens are integral to the concert production, moving to the rhythm and beat of the music while displaying real-time video footage of the show and digital animations. At various intervals the five robot arms move into a formation where the LED panels become one continuous five-panel screen.

RoboScreen is the creative concept that brings the robots to life on stage. It is a patented technology developed by inventor Andy Flessas, the founder and president of Robotic Arts of Las Vegas. Flessas' experience with robots began in the mid-1990s and reached elite status in 2006 when he completed a robotic programming, design and operation certification program. Along the way he developed the idea of mounting a graphic screen on a robotic arm to bring controlled movement to the visual media and create a unique viewer experience. 

Now, Flessas says he is using inverse kinematics in the same way a computer animator uses it, and teaching younger animators to use the robotics technology.

"Our goal is trying to create a choreographed look to the way the six-axis robot is moving," says Flessas. He says that movements are coordinated at 30 frames per sec using a time code to synchronize motion with a musical beat or frame of video.

"The big challenge was working with outside art groups to bring them up to speed on using robots to create omnidirectional video," Flessas says. "I needed to work with the outside animators and producers to get them to a point where they could understand the potential uses of the technology, and then they are off and creating. The cool part is watching what they did with that basic understanding."

The intelligence that allows the robots to be precisely choreographed with the music and onstage production is Robot Animator™, a software program extension that enables 3-D computer animation. The proprietary software, developed by Flessas, provides a separate interface to animate the movement of the ABB robots as if they were on-screen characters. Once the desired movement is established, Robot Animator channels the code directly into ABB's IRC controller and the robots replicate the movement on stage.

Each IRB 7600 robot is entrusted with a custom-designed LED panel that weighs 700 lb and is comprised of 24 individual sub-panels arranged in a six column by four row grid. The I-MAG or image magnification footage, approximately 85 percent of what will appear on the screens during the show, is fed by multiple cameras set up throughout the concert venue. The animations that fill the balance of the screen time are a combination of pre-programmed 3-D graphics and fully rendered, real time computerized reactions to the beat of the music.



A small team of engineers has created a tackling dummy robot that's comparable to training with human players on the football field.
Several plastics and elastomers have come out recently for different parts of cars, as well as for multi-material medical devices and for onboard base station antenna components.
Work in embedding conductive materials into commercially available yarn could lead to energy textiles that store power for use.
A ball bearing developed for turbofan engines by FAG Aerospace of Germany and MTU Aero Engines could have other uses such as turbines, pumps, and gearbox stages.
Fifty-six-year-old Pasquale Russo has been doing metalwork for more than 30 years in a tiny southern Italy village. Many craftsmen like him brought with them fabrication skills when they came from the Old World to America.

Focus on Fundamentals consists of 45-minute on-line classes that cover a host of technologies. You learn without leaving the comfort of your desk. All classes are taught by subject-matter experts and all are archived. So if you can't attend live, attend at your convenience.
Next Course August 25-27: