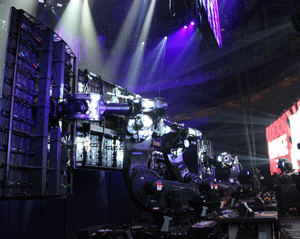 Five of ABB's largest and most powerful robots that use inverse kinematics to create unique robotic motions are taking the stage with Bon Jovi for the band's Circle Tour. Patented RoboScreen™ technology with large LED video panels attached to the robot's articulated arms delivers an unprecedented concert experience. Robots are choreographed to be part of the show, using inverse kinematics and advanced motion control to move in sync to the music.

The Bon Jovi concert experience has always been a marvel of sight and sound, and The Circle Tour, which opened Feb. 19 in Seattle, has taken this production innovation to a new level. A primary component of the visual intrigue of the show is five ABB IRB 7600 industrial robots positioned toward the back of the stage, each with a 6 x 9 ft LED video panel attached to their articulated arm. 

The robots and screens are integral to the concert production, moving to the rhythm and beat of the music while displaying real-time video footage of the show and digital animations. At various intervals the five robot arms move into a formation where the LED panels become one continuous five-panel screen.

RoboScreen is the creative concept that brings the robots to life on stage. It is a patented technology developed by inventor Andy Flessas, the founder and president of Robotic Arts of Las Vegas. Flessas' experience with robots began in the mid-1990s and reached elite status in 2006 when he completed a robotic programming, design and operation certification program. Along the way he developed the idea of mounting a graphic screen on a robotic arm to bring controlled movement to the visual media and create a unique viewer experience. 

Now, Flessas says he is using inverse kinematics in the same way a computer animator uses it, and teaching younger animators to use the robotics technology.

"Our goal is trying to create a choreographed look to the way the six-axis robot is moving," says Flessas. He says that movements are coordinated at 30 frames per sec using a time code to synchronize motion with a musical beat or frame of video.

"The big challenge was working with outside art groups to bring them up to speed on using robots to create omnidirectional video," Flessas says. "I needed to work with the outside animators and producers to get them to a point where they could understand the potential uses of the technology, and then they are off and creating. The cool part is watching what they did with that basic understanding."

The intelligence that allows the robots to be precisely choreographed with the music and onstage production is Robot Animator™, a software program extension that enables 3-D computer animation. The proprietary software, developed by Flessas, provides a separate interface to animate the movement of the ABB robots as if they were on-screen characters. Once the desired movement is established, Robot Animator channels the code directly into ABB's IRC controller and the robots replicate the movement on stage.

Each IRB 7600 robot is entrusted with a custom-designed LED panel that weighs 700 lb and is comprised of 24 individual sub-panels arranged in a six column by four row grid. The I-MAG or image magnification footage, approximately 85 percent of what will appear on the screens during the show, is fed by multiple cameras set up throughout the concert venue. The animations that fill the balance of the screen time are a combination of pre-programmed 3-D graphics and fully rendered, real time computerized reactions to the beat of the music.




7
When Dick Neubert discovered that his fireplace's heatilators lost heat when not in use, he created a gadget to rectify the situation.

4
Microsoft will quit supporting – and patching – Windows XP in April. This may be a cruel development for plants.

2
Injection molding can be a powerful tool for both prototyping and production. Here are some tips on how design engineers can get the most out of it.

3
Truchard will be presented the award at the 2014 Golden Mousetrap Awards ceremony during the co-located events Pacific Design & Manufacturing, MD&M West, WestPack, PLASTEC West, Electronics West, ATX West, and AeroCon.

14
In a bid to boost the viability of lithium-based electric car batteries, a team at Lawrence Berkeley National Laboratory has developed a chemistry that could possibly double an EV's driving range while cutting its battery cost in half.


LATEST ARCHIVED BROADCAST
For industrial control applications, or even a simple assembly line, that machine can go almost 24/7 without a break. But what happens when the task is a little more complex? That's where the "smart" machine would come in. The smart machine is one that has some simple (or complex in some cases) processing capability to be able to adapt to changing conditions. Such machines are suited for a host of applications, including automotive, aerospace, defense, medical, computers and electronics, telecommunications, consumer goods, and so on. This discussion will examine what's possible with smart machines, and what tradeoffs need to be made to implement such a solution.



Datasheets.com Parts Search
185 million searchable parts
(please enter a part number or hit search to begin)