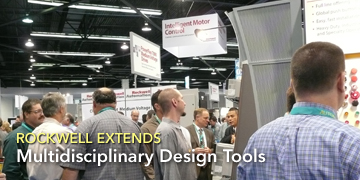 Anaheim, CA - More than 6,000 attendees have come to the Rockwell Automation Fair, which kicked off in Anaheim today, to see first-hand the latest automation technologies and services from Rockwell and its partner companies. Software and design tools continue to evolve and grow as a key part of the engineering toolkit.
One theme Rockwell hopes to get across to the engineers swarming the aisles here is the benefits of a multidisciplinary approach to machine design and the tools and products it has developed to help facilitate a more integrated design environment.
"One of the things we recognized in the past was that mechanical, electrical, controls, and software engineers worked on their part of the design. Then they threw it over the wall," says Michael Burrows, director of marketing development for Integrated Architecture, smiling and noting that he saw it work that way once as an EE manager early in his career.
When the process works that way, says Frank Kulaszewicz, vice president and general manager, Control Visualization Business, the design cycle is inefficient, with an over-reliance on physical prototypes to prove whether the design actually works. "It's an expensive and time-consuming way to engineer a system, and it's difficult to optimize the design as a whole. Another side effect is that engineers tend to over-design their aspect of the system."
The idea of one design tool - in Rockwell's case the RSLogix 5000 control system and configuration software - with interoperability with software such as CAD and a library of specific toolkits for functions such as motion control and process control, says Burrows, creates an immediate efficiency with less of a learning curve. "Engineers can learn a competency, as opposed to a discipline," he says. "And they are able to perform more simulations of their designs earlier in the process. That leads to better machine designs much earlier in the process."
Building upon this philosophy, Rockwell continues to extend its offerings. Noteworthy is the recent update to its Motion Analyzer Software, which engineers use to create a mathematical model to size and select an optimized motion system, which now provides interoperability with SolidWorks 3-D CAD software. This new capability will allow an engineer to create a profile in Motion Analyzer and visualize it in SolidWorks.
Significantly, the motion profiles from Motion Analyzer can now be exported directly to the RSLogix 5000 programming software. "Engineers can now take the digital design of the motion system and add the controls and electrical to it faster and with less programming," says Victor Swint, vice president and general manager, Motion Control Business. "Now the companies who have been saying that they cannot optimize their designs really can."