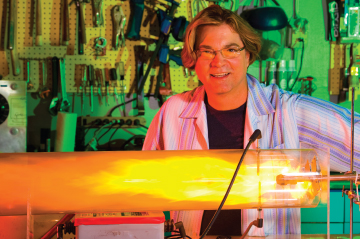 While working on a project for a television program, several-times-over Gadget Freak John Tindall started tinkering with a pulsejet engine. Pulsejet engines were used by the Germans during WWII. The technology was left behind by turbofan jets. But Tindall found the pulsejet well-suited to garage - and Gadget Freak - tinkering. Apparently there is a wide community of hobbyists playing with pulsejets at home. Tindall came up with a cyclonic-valve radial design that makes for smoother airflow. He proved the concept with plastic and aluminum valves - but the gadget backfired and blew up. Next step, a steel model...
Get Build Instructions  | View Parts List | Post a Comment | Watch the Video

Part Description
6" clear acrylic tube x 2'6'
2" clear acrylic tube x 4'6"
4 x 1 ½" x 1 ¾" 22-gauge aluminum sheet
8 x # 8 x ½ " machine screw and nuts
#8 tap
acrylic cement
¼ - 20 x 10" threaded stock
4 ¼ - 20 nuts
12" x ½" copper pipe with end cap and fittings
20' pressure hose
1 tank propane
1 15kv neon sign transformer




7
A team of Colorado State University students has created a gadget that guides a remote control airplane through the sensors in a glove.

8
The Tesla Model S' performance in Consumer Reports tests was a major victory for electric cars, but a bigger challenge still lies ahead.

2
By refining topologies and using new fluid technology, Moog's new peak sine drive controller increases available power without increasing controller volume.

2
Lantronix Inc. has expanded its line of controllers for sensor networks with the release of a rugged controller that improves management of automation systems used in a number of industries, including manufacturing, oil and gas, and chemicals.

7
Inspired by the hooks a parasitic worm uses to penetrate its host's intestines, the Karp Lab has invented a flexible adhesive patch covered with microneedles that adheres well to wet, soft tissues, but doesn't cause damage when removed.


A quick look into the merger of two powerhouse 3D printing OEMs and the new leader in rapid prototyping solutions, Stratasys. The industrial revolution is now led by 3D printing and engineers are given the opportunity to fully maximize their design capabilities, reduce their time-to-market and functionally test prototypes cheaper, faster and easier. Bruce Bradshaw, Director of Marketing in North America, will explore the large product offering and variety of materials that will help CAD designers articulate their product design with actual, physical prototypes. This broadcast will dive deep into technical information including application specific stories from real world customers and their experiences with 3D printing. 3D Printing is




Datasheets.com Parts Search
185 million searchable parts
(please enter a part number or hit search to begin)