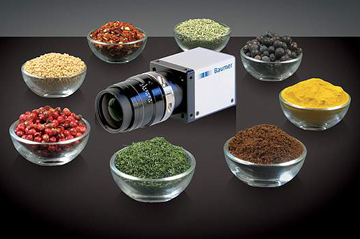 Designing, installing and maintaining wiring has always been a big cost component in automation systems, but it's a cost that can increasingly be controlled as suppliers come up with clever ways to cut some of the cable clutter. The latest example comes from Baumer Ltd., which has developed a new machine vision system featuring power over gigabit Ethernet (PoE) capabilities.
The system will send power to the remote cameras through the same Cat-6 gigabit Ethernet cable and "RJ-45" connectors that the PC-based vision system uses for data. "Power and data go over one wire. You completely eliminate the need for a separate power cord for the cameras," says Doug Erlemann, Baumer's business development manager for cameras.
The system does require a power injector that looks a bit like a laptop computer power supply. Yet it is easily installed near the PC that handles all the image processing tasks. "You just plug it into the power outlet and run the Cat 6 wire through on its way back to the PC," says Erlemann.
Other than the simplified installation and maintenance from removing a separate power cord, the vision system is in all other respects like the Baumer systems that have gone before it. The only difference is the PoE camera at 58 x 34 x 34 mm is 10 mm longer than the previous cameras to make room for a power supply card.
In coming generations, the new camera might reduce wiring requirements even more. Erlemann says the company is working on sending strobe-light syncing data over Ethernet, along with the power and data. This move would eliminate the need for hardwired triggers used in many applications. "That's one more cable that wouldn't have to be installed," he says.
What's more, the PoE camera may serve as a platform for other functionality in the future. Erlemann says it has an embedded FPGA with unused registers, which could be pressed into service to add more "smarts" to this remote camera.
Baumer will officially unveil the new system in November at the Vision 2008 Show in Stuttgart, Germany. But the company has been running the system in its labs for months, acquiring many thousands of images without a hitch, according to Erlemann.
Yesterday, Baumer was set to ship an alpha unit of the system to an automotive customer who wants to use it for vision-guided robotics in a door assembly operation. Robotic applications in general will be a strong fit for the system, Erlemann says, "because of the cost of adding and maintaining cabling on articulated arm robots."