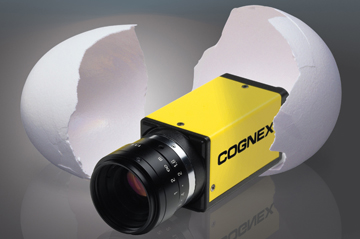 In an effort to reach out to machine builders who want to make machine vision easier to implement, Cognex has started to reduce the size of its vision systems without skimping on features.
"The big things that appeal to machine builders are size and ease-of-use," says John Keating, Cognex product manager. The company's In-Sight Micro vision system addresses both needs for users who need to put systems in awkward places and get them up and running quickly.
According to Keating, advances in processing power allowed Cognex to create a self-contained unit whose camera and electronics fit in a 30 x 30 x 60 mm package, which makes this complete vision system smaller than many "dumb" remote cameras in the past.
From an ease-of-use standpoint, the In-Sight Micro also supports a collection of software tools aimed at set-up and accurate inspections. For one, it works with Cognex's Easy Builder configuration software, which allows users to create custom vision applications using a four-step point-and-click process. "There's no programming involved," Keating says.
For another, In-Sight Micro provides a non-linear calibration tool that compensates for camera angles that are less than ideal. Keating says space constraints on the machine can keep users from mounting the cameras orthogonally to the inspected parts. "The non-linear calibration tool lets the system automatically adjust to camera angles up to 45 degrees," he says.
In-Sight Micro's line-up of software vision tools also includes PatMax, a geometric pattern matching tool designed to locate parts even under changing conditions – including variations in lighting, part orientation and part size. And accurate part location has positive implications not just from the perspective of improved inspection yields but also from the possible elimination of inspection-related fixturing.
Five camera models are available as part of the In-Sight line, including a two-megapixel model and even a version that functions as a 2D data reader.