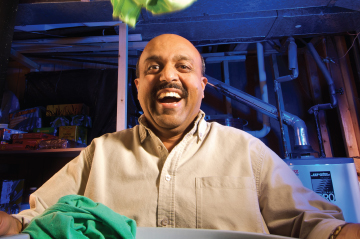 Just what you always wanted - an automated laundry chute. Jitendra Tailor of Winnipeg created a laundry chute that opens and closes on its own. Drop your clothes on the trap door (built into the floor of an upstairs bathroom) and the door opens, dropping your clothes down to the laundry room. Once the clothes have fallen, the trap door closes. A motor, a series of pulleys and a couple switches is all you need to automate the chore of sending your clothes down to the washer.
Get Build Instructions | View Parts List | Post a Comment | Watch the Video

Amt

Part Description

Allied Part #

1

Relay SPST

821-0379

1

Relay DPST

821-0369

1

LM 7812 12V Regulator

288-0264

1

LM 317 2.4V Regulator

288-0474

1

Lid Close Switch SPDT

642-2171

1

Lid Open/Reset Switch

821-0024

1

Override/Safety Switch

821-0024

2

510Ω Resistors

895-3148

4

1 µf/35V Capacitor

926-0780

5

1N4007 Diode

266-0007

1

1,000 µf/35V Capacitor

852-6594

1

1K Potentiometer

372-0451

Additional Parts Required:

1

110/12V ac Transformer (from old stereo amplifier)

1

Cordless Screwdriver (modifying is required)

1

Vero Board (Electronic Project Board)

Pulley

Other Hardware




3
As energy efficiency becomes more and more a concern for makers of electronics devices, researchers are coming up with new ways to harvest energy from sound vibration, footsteps, and even electromagnetic fields in the air.

1
Watch IBM's atomic scale stop motion film about, you guessed it, a boy and his atom.

0
The government wants to study your brain, and DARPA wants to use similar information to give robots true autonomy beyond any artificial intelligence developed to date. Sound like science fiction? It's not.

1
If the fuse and fuse holder don't match up right, hefty repair bills might follow.

2
The brakes work just fine, but the brake sensor light has a life of its own.


A quick look into the merger of two powerhouse 3D printing OEMs and the new leader in rapid prototyping solutions, Stratasys. The industrial revolution is now led by 3D printing and engineers are given the opportunity to fully maximize their design capabilities, reduce their time-to-market and functionally test prototypes cheaper, faster and easier. Bruce Bradshaw, Director of Marketing in North America, will explore the large product offering and variety of materials that will help CAD designers articulate their product design with actual, physical prototypes. This broadcast will dive deep into technical information including application specific stories from real world customers and their experiences with 3D printing. 3D Printing is




Datasheets.com Parts Search
185 million searchable parts
(please enter a part number or hit search to begin)