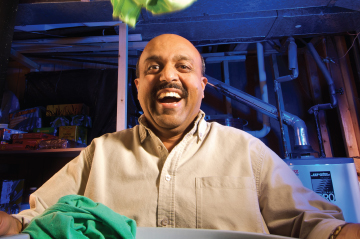 Just what you always wanted - an automated laundry chute. Jitendra Tailor of Winnipeg created a laundry chute that opens and closes on its own. Drop your clothes on the trap door (built into the floor of an upstairs bathroom) and the door opens, dropping your clothes down to the laundry room. Once the clothes have fallen, the trap door closes. A motor, a series of pulleys and a couple switches is all you need to automate the chore of sending your clothes down to the washer.
Get Build Instructions | View Parts List | Post a Comment | Watch the Video

Amt

Part Description

Allied Part #

1

Relay SPST

821-0379

1

Relay DPST

821-0369

1

LM 7812 12V Regulator

288-0264

1

LM 317 2.4V Regulator

288-0474

1

Lid Close Switch SPDT

642-2171

1

Lid Open/Reset Switch

821-0024

1

Override/Safety Switch

821-0024

2

510Ω Resistors

895-3148

4

1 µf/35V Capacitor

926-0780

5

1N4007 Diode

266-0007

1

1,000 µf/35V Capacitor

852-6594

1

1K Potentiometer

372-0451

Additional Parts Required:

1

110/12V ac Transformer (from old stereo amplifier)

1

Cordless Screwdriver (modifying is required)

1

Vero Board (Electronic Project Board)

Pulley

Other Hardware




3
Honda Motor Co. is ratcheting up its investment in fuel cells, rolling out a futuristic new concept vehicle and announcing plans to launch a hydrogen-powered production car in 2015.

1
A spacecraft on its way to Mars is carrying core structures made with carbon-fiber composites. Launched November 18, NASA's Mars Atmosphere and Volatile EvolutioN (MAVEN) spacecraft is the first designed for exploring and understanding the red planet's upper atmosphere.

1
Microsoft says it spent more than $100 million in the research and development of its new Xbox One controller. Was it worth it?

3
UK-based New Wave Energy wants to deploy a network of drones at a high altitude --- 50,000 feet -- to harvest solar and wind energy and help end dependency on the traditional power grid.

0
Arburg's new 3D printer, called the Freeformer, melts granulates together, in a process identical to that of injection molding.



Datasheets.com Parts Search
185 million searchable parts
(please enter a part number or hit search to begin)