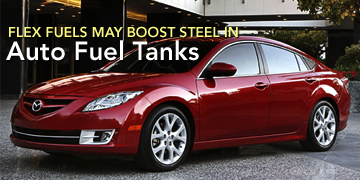 Plastics have grabbed a better than 80 percent share of the market for automotive fuel tanks in North America in the past 20 years, but steel manufacturers see brighter days ahead.
"The steel industry has really recognized that in order to compete more effectively, the grades of steel available for fuel tanks needed to improve, particularly in terms of formability and corrosion resistance," says Ray Sheffield, director of the fuel tank group at Martinrea International, a steel tank producer in Brampton, Ontario.
More complex shapes are possible with new highly formable steels when they are combined with advanced forming technologies, such as high-speed seam welding with tight radii. New corrosion-resistance treatments (such as zinc-nickel or tin zinc) boost the life of steel fuel tanks to 15 or 20 years. Thirty years ago, many steel tanks lasted only five to 10 years.
Two big factors may tip the equation in favor of steel, according to members of the Strategic Alliance for Steel Fuel Tanks, which is part of the American Iron and Steel Institute.
One is economics. Soaring oil costs are pushing up the price of blow molding grade high-density polyethylene to almost $1 per pound, up from 60 cents per pound in 2004. Prices for electrogalvanized steel have been steady, according to the group.
The second factor is the trend to new fuels. "New regulations are what drive change in the fuel tank market," says Sheffield. "Ethanol content is driving the auto OEMs and the California Air Resources Board to modify their emissions testing. Ethanol increases permeation through plastic tanks."
Plastic tanks achieve impermeability through multiple layers of plastic, barrier material and adhesive material, while steel is inherently impermeable.
Steel tanks also have another significant environmental advantage: recyclability. Steel fuel tanks are recycled through shredders with the rest of the steel content and are remelted to make more steel. Plastic tanks are theoretically recyclable, but in fact are not recycled after use. Some factory regrind is re-used as an additional layer in some plastic tank designs. Some plastic fuel tanks are incinerated in fuel recovery programs.
A bottom line issue for steel tanks is capacity. Steel has an advantage with tanks of the same size and design because its wall thickness is under 1 mm compared to 5 or 6 mm with blow-molded tanks.