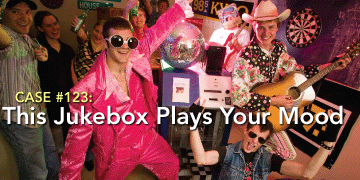 Sometimes the music around you just doesn't fit your mood. The Jukebox Hero designed by Zach Glueckert, Kevin Wills and Ross Bulkley may solve that problem. It can operate as a normal Jukebox with individual songs available. It can also operate on "mood" mode. The gadget uses sensors to identify temperature, light and sound in order to detect environmental mood. The Jukebox sensors can determine eight individual moods and each mood is tied to predetermined CD tracks. So, as the lights go down and the joint gets quiet, you'll soon hear Frank Sinatra croon, "In the Wee Small Hours of the Morning." That is, unless the Jukebox operator has intentionally programmed the Clash to disrupt quiet moments at a party.
Get the Build Instructions | View Parts List | Post a Comment | Watch the Video
Amt

Part Description

5
PIC16F88 Microcontroller
383-0496
2
4 MHz Crystal Oscillator
895-0604
1
Matrix Keypad
948-7874
10
4.7K Resistor
296-4769
16
1K Resistor
648-0073
4
22 pF Capacitor
881-0422
5
.1 µF Capacitor
852-1170
5
Temperature Sensor
288-0550
3
Photo Cell
699-6051
1
Microphone
623-0100
1
Buzzer for Keypad
623-2030
1
10K Potentiometer
754-0124
6
5V dc SPST Relay
681-0156
4
Heat Sink
619-0025
4
TIP-120 Transistors
935-6016
Get build instructions




6
A team of Colorado State University students has created a gadget that guides a remote control airplane through the sensors in a glove.

5
The Tesla Model S' performance in Consumer Reports tests was a major victory for electric cars, but a bigger challenge still lies ahead.

1
By refining topologies and using new fluid technology, Moog's new peak sine drive controller increases available power without increasing controller volume.

1
Lantronix Inc. has expanded its line of controllers for sensor networks with the release of a rugged controller that improves management of automation systems used in a number of industries, including manufacturing, oil and gas, and chemicals.

6
Inspired by the hooks a parasitic worm uses to penetrate its host's intestines, the Karp Lab has invented a flexible adhesive patch covered with microneedles that adheres well to wet, soft tissues, but doesn't cause damage when removed.


A quick look into the merger of two powerhouse 3D printing OEMs and the new leader in rapid prototyping solutions, Stratasys. The industrial revolution is now led by 3D printing and engineers are given the opportunity to fully maximize their design capabilities, reduce their time-to-market and functionally test prototypes cheaper, faster and easier. Bruce Bradshaw, Director of Marketing in North America, will explore the large product offering and variety of materials that will help CAD designers articulate their product design with actual, physical prototypes. This broadcast will dive deep into technical information including application specific stories from real world customers and their experiences with 3D printing. 3D Printing is




Datasheets.com Parts Search
185 million searchable parts
(please enter a part number or hit search to begin)