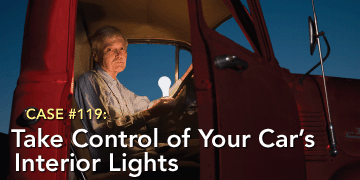 When you close your car door, the lights may go out immediately, fade or they may stay on interminably while you stand there wondering if you closed the door all the way. Bill Bowden has devised a gadget that lets you take control of your interior lights. Bowden's Automobile Interior Lights Fader lets you determine whether the lights go out right away, fade or stay on for a few seconds. You can even program the fade times to fast-on, slow-off or vice versa. The device's circuit is intended for cars that have a door switch that supplies a ground to the interior lights with one side of the lights connected to the positive side of the battery through an appropriate fuse. With a few modifications, the device can also be used without a door switch.
Get the Build Instructions | View Parts List | Post a Comment
Amt

Part Description

1
LM324 quad op-amp
248-0027
1
2N3904 Transistor
568-0292
1
2N3906 Transistor
568-0293
1
IRFZ44 Mosfet
273-0224
3
100 uF Capacitor
613-0745
1
.05 uF Capacitor
507-0811
1
100O Resistor
296-4662
1
6.2K Resistor
296-6592
1
7.5K Resistor
296-6632
1
8.2K Resistor
296-6598
4
10K Resistor
895-0633
3
75K Resistor
296-6627
1
100K Resistor
296-4664
Get build instructions




2
Using almost 200 light-emitting diodes in the front and back of the new 2014 CTS, Cadillac designers are showing how LEDs can change the character of a vehicle.

0
Carbon fiber composites are being used in a satellite fuel tank designed to burn up on re-entry.

2
One of the university-level research efforts to improve the composition of lithium-ion batteries through nanotechnology has gone commercial.

0
Yin-Mei Li of the University of Science and Technology of China developed a way to manipulate blood cells using lasers.

16
We looked at a number of sources to determine this year's greenest cars, from KBB to automotive trade magazines to environmental organizations. These 14 cars emerged as being great at either stretching fuel or reducing carbon footprint.


A quick look into the merger of two powerhouse 3D printing OEMs and the new leader in rapid prototyping solutions, Stratasys. The industrial revolution is now led by 3D printing and engineers are given the opportunity to fully maximize their design capabilities, reduce their time-to-market and functionally test prototypes cheaper, faster and easier. Bruce Bradshaw, Director of Marketing in North America, will explore the large product offering and variety of materials that will help CAD designers articulate their product design with actual, physical prototypes. This broadcast will dive deep into technical information including application specific stories from real world customers and their experiences with 3D printing. 3D Printing is




Datasheets.com Parts Search
185 million searchable parts
(please enter a part number or hit search to begin)