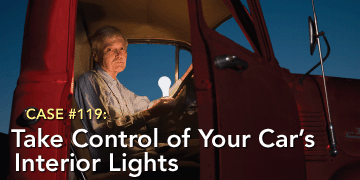 When you close your car door, the lights may go out immediately, fade or they may stay on interminably while you stand there wondering if you closed the door all the way. Bill Bowden has devised a gadget that lets you take control of your interior lights. Bowden's Automobile Interior Lights Fader lets you determine whether the lights go out right away, fade or stay on for a few seconds. You can even program the fade times to fast-on, slow-off or vice versa. The device's circuit is intended for cars that have a door switch that supplies a ground to the interior lights with one side of the lights connected to the positive side of the battery through an appropriate fuse. With a few modifications, the device can also be used without a door switch.
Get the Build Instructions | View Parts List | Post a Comment
Amt

Part Description

1
LM324 quad op-amp
248-0027
1
2N3904 Transistor
568-0292
1
2N3906 Transistor
568-0293
1
IRFZ44 Mosfet
273-0224
3
100 uF Capacitor
613-0745
1
.05 uF Capacitor
507-0811
1
100O Resistor
296-4662
1
6.2K Resistor
296-6592
1
7.5K Resistor
296-6632
1
8.2K Resistor
296-6598
4
10K Resistor
895-0633
3
75K Resistor
296-6627
1
100K Resistor
296-4664
Get build instructions




1
Contributing editor Cabe Atwell developed a Raspberry Pi and Arduino-based remote network fish tank control for his goldfish, Goldie Fishwater.

4
Are they robots or androids? We're not exactly sure. Each talking, gesturing Geminoid looks exactly like a real individual, starting with their creator, professor Hiroshi Ishiguro of Osaka University in Japan.

1
Hybrid vehicle engineers may now have a way to do hardware-in-the-loop simulation testing, instead of physical dynamometer testing, on the electric motors that propel their cars.

8
NASA is developing Project Morpheus, a vehicle that can lift off and set itself down on planetary surfaces.

19
Nissan Motor Co. is taking the electric vehicle into new territory, rolling out an exotic-looking three-seat concept car that combines sustainability with race car-like performance.


LATEST ARCHIVED BROADCAST
For industrial control applications, or even a simple assembly line, that machine can go almost 24/7 without a break. But what happens when the task is a little more complex? That's where the "smart" machine would come in. The smart machine is one that has some simple (or complex in some cases) processing capability to be able to adapt to changing conditions. Such machines are suited for a host of applications, including automotive, aerospace, defense, medical, computers and electronics, telecommunications, consumer goods, and so on. This discussion will examine what's possible with smart machines, and what tradeoffs need to be made to implement such a solution.



Datasheets.com Parts Search
185 million searchable parts
(please enter a part number or hit search to begin)