Satisfaction
Job satisfaction remained at 56 percent this year for engineers who are extremely or very satisfied with their career. The percentage of those satisfied with their career said that problem solving, technical challenges, and the opportunity to be creative are contributing factors. A reoccurring response about job satisfaction includes engineering freedom and flexibility of schedule. Others noted the ability to mentor and pride in their finished product as their contributing factors.
Those who were dissatisfied said that the lack of advancement, company politics, and salary were their top contributing factors. More specifically noted was bad management, outsourcing, and lack of tools and projects.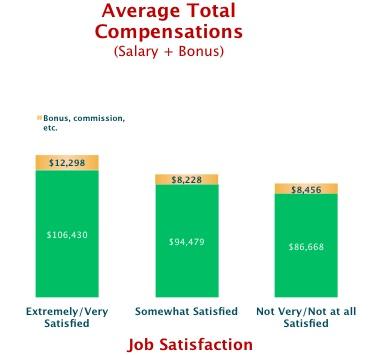 Engineers were split on outsourcing. Some said their company is doing it more often and others said it isn't likely because the training needed to outsource would be too extensive. One survey taker said, "Management is increasingly cutting costs by outsourcing to India, also I work in a satellite engineering office instead of the company's headquarters. Even though this saves the company money, they would rather consolidate development at the HQ."
Job satisfaction in relation to the salary earned proved to be an important factor. The engineers who are extremely or very satisfied earn an average salary of $106,430 with an average bonus of $12,298. Those who are not very or not at all satisfied come in with the lowest salaries of $86,668 and an average bonus of $8,456.
Challenges and growth
Who doesn't like a good challenge? Fifty-one percent said their job is extremely or very challenging. Forty-one percent say their job is somewhat challenging. Factors that contributed to the challenges of their job include workload, balancing work and personal life, and keeping up with technology. Compared to two years ago, 41 percent say that their job is more stressful and 46 percent say their stress level has stayed the same.
New opportunities can lead to a better career path, and that is why 32 percent of engineers are always keeping their eyes open for better opportunities. In the past year, 37 percent of engineers say recruiters contacted them. Twenty-four percent of engineers are seeking another job, while 44 percent are happy with their current job.
Workforce fluctuations and job security
In the past year, 40 percent have said their company has hired or added personnel, while 32 percent said their company has experienced layoffs and downsizing. The engineers who have seen a reduction say there has been an average reduction of 15 percent. The ones who have seen an increase of workforce have seen a 13 percent increase.
In the current economy, 55 percent of engineers are concerned with the security of their positions. Of the 55 percent, 20 percent are extremely or very concerned. These respondents think the concern is a main function of the company followed by the economy and politics. People who were very concerned noted downsizing and lack of money as main issues. Those who are extremely concerned say they are having a hard time finding work, even part-time.
An engineer who is somewhat concerned about management's decision making said, "I worry about the fiscal responsibility of management. I worry that they are spending beyond their budget and if the economy were to scale back and sales drop the company could become insolvent."
The engineers who are unconcerned with their job security say their lack of concern is a function of their individual situation, company, and industry.
Many of those surveyed who did not show concern pointed out that they have a rare skill set that would always be in demand. One engineer pointed out, "I have assisted with hiring for years and it is very, very difficult to find engineers who are qualified in terms of critical thinking skills, motivation, initiative, etc. I know I will always be employed since I have these skills."
Another said, "Regardless of the economic conditions, as long as you grow and have a desirable skill set you will always have opportunities for employment."
Download the full survey, sponsored by Aerotek, here.