Yet even without government subsidies and mandates, economics point increasingly to alternative energy. "Renewable energy offers many advantages: reduction of ghg emissions, hedging against rising energy prices from fossil fuel, improved power supply reliability and access," Mary Burgoon, market development manager for energy management at Rockwell Automation, told us.
Technology enabling alternative sources
Renewable energy is also getting a boost from technology. Whether it's measurement systems or optimization technology, plants now can get more out of alternative energy.
"The next steps in solar adoption are to integrate energy storage with a photovoltaic system to provide a more steady supply of power," Yee said. "Also, new control schemes are emerging to make PV more in line with traditional power sources, which are available on demand. New inverter features will allow the power generation to be controlled to various levels on demand."
Accurate measurement of energy production is essential in determining whether a renewable fuel is economically feasible. "If you're working with a solar vendor who says you're getting 85 watts for each three foot by two foot panel that's covering your rooftop, you want to know you're getting that wattage," Burger said. "It's OK to be a little off, but if you're only getting 9% efficiency instead of 50%, that might mean you're unprofitable."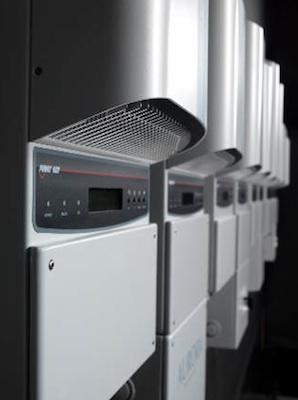 To measure the output of a solar panel grid, National Instruments uses its CompactRIO PAC, which is designed for measurement. "It's about the size of a brick, and it's a hardened embedded controller. It has a dual-core processor running Linux, and it's designed for power measurement," Burger said. "If I spent all this money putting in a solar array, I want to know what I'm getting. And if I sell back to the grid, I want to know how much I'm sending."
National Instruments has also designed tools to mitigate the variables in renewable energy. "Clouds can drop your solar, and wind is variable, so battery power is used for storage and generation." The CompactRIO is also designed to handle this function. "It all stems from measuring current and developing algorithms, so you can predict what you'll experience. Some plants tie in weather data," which can be used to adjust the control algorithm.
Control systems also bring efficiency to renewable energy and help blend it with fossil fuel energy. "Rockwell Automation is helping clients with technology and controls architecture to generate power from wind and solar," Burgoon said. "We support the use of alternative energies in electricity generation, which is then incorporated into the electricity supply provided to manufacturing plants." Control systems can also help smooth the ups and downs of renewables. Rockwell works with large suppliers of solar and wind generation to manage the variable generation supplied by these resources.
With all the incentives and costs savings of renewable energy, power plants are uniformly introducing wind and solar to their energy mix, and they're turning to control systems to manage it. "The scalable Integrated Architecture system from Rockwell, along with networking expertise offered in collaboration with Cisco, offers utility providers an effective way to manage variable generation to meet manufacturing plant demand," Burgoon said.
She also said manufacturers are adopting alternative energies for facilities not directly involved in critical production, including warehouses and offices. "Manufacturers are looking to add alternative energy to their mix, but since most of their loads are critical to the manufacturing process, they tend to leverage options like wind and solar for noncritical areas within the plant."
Related posts: