Discover-E has chosen its 13 New Faces of Engineering for 2015, and the list includes an impressive number of young people who are using their roles as engineers to effect positive change through real-world applications of their skills and training.
Design News had the opportunity to speak with one of these new faces, Maria Gibbs, a 24-year-old PhD student at Notre Dame who is working to model and predict how suspension bridges will behave in high winds to create safer structures.
Her dissertation work focuses on suspension footbridges in underprivileged parts of the world and she has performed monitoring and tests of bridges in El Salvador, Nicaragua, and Rwanda. Gibbs received an undergraduate degree in civil engineering from Duke University.
We spoke to Gibbs from the site of her latest project in Haiti, where she is working to monitor the Moron footbridge that spans the Grand Anse River on the southwest tip of Haiti as part of a Bridges to Prosperity project. The organization -- with which Gibbs has been involved since 2010 -- builds bridges over impassable rivers that prevent access to healthcare, economic opportunities, and education.
The Grand Anse River separates Moron, a town of 24,000, from a number of other communities, including Illes Blanches, Mannuel, and Ravine-a-Charles. The combined population of the area is more than 30,000. During Haitiís rainy season, the river swells significantly and prevents children from going to school, people from going to work, farmers from selling their goods at the market, and people from accessing healthcare.
It also has claimed countless lives of desperate residents who try to cross it despite its dangers. For instance, during Hurricane Sandy in 2012, five people lost their lives trying to cross the Grande Anse River. Bridges to Prosperity anticipates the bridge will serve more than 40,000 people once itís complete.
Gibbs shared with us more about her work, her feelings about engineering and advice for young people entering the field.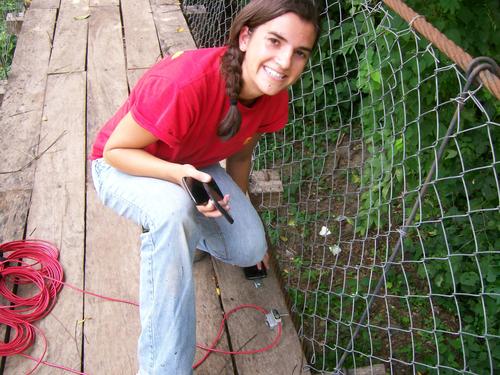 DN: So tell me, what are you doing in Haiti?
Gibbs: Iím here to put sensors on a bridge to track its motion to see how itís behaving. Iím also working on something called an innovation incubator that sources the solution to problems using the expertise of the people whom that problem affects.
DN: How did you hear about the Discover-E New Faces of Engineering program? Is it something you applied for?
Gibbs: Itís actually a process that Iím learning as I go along. I was nominated to the civil engineering American Society of Civil Engineers New Faces sub competition. Of those 10 new faces they select one or two for the Discover-E competition. Avery Bang, the CEO of Bridges to Prosperity, nominated me. Bridges to Prosperity is a nonprofit that builds footbridges over impassable rivers all over the world that are preventing people from getting access to education, healthcare, and economic opportunities. I have been working with them for five years. I started out as a volunteer while I was still a student at Duke University. I created the Duke chapter and a little sister organization Duke Engineers for International Development. We had five projects, and one was a Bridges to Prosperity project. Thatís how I became familiar with the organization. I went on to be the university representative on the board of directors, and came on staff for a year as the operations and research coordinator from 2013 to 2014. Now Iím back in graduate school getting my PhD at Notre Dame. Iím still on the board of directors of the organization.
DN: How do you feel about receiving this award?
Gibbs: It was a huge surprise. I think I was partly surprised just because so much of the work I do is focused on a much bigger team. Iím just a small part of what the team is doing in Bridges to Prosperity. You have to give credit to all the masons and engineers working with these people in these countries.
Itís recognition and for me itís an opportunity to spread the word about Bridges to Prosperity and spread the word in general and talk to some young people so that theyíre not turned off to engineering like I almost was. I think itís an attempt to give engineers some credit that perhaps engineers have missed out on in the past because they are not the best communicators.
DN: When did you become interested in engineering?
Gibbs: Thatís an interesting question. I guess I became interested in engineering -- calling it by name -- pretty late in the game. I have always been interested in building things with my hands and figuring out how the world works, but I was very much against the idea of being an engineer. In my mind engineers were boring old men who sat in a room in front of computers.
I have a dad and an older brother who are engineers and I wanted to do my own thing, but I always loved math and science. The decision to be an engineer came in my senior year of high school when I had a realization that engineering is at the heart of building up some of the systems that can level the playing field and give people opportunities to succeed. Really at the heart of it is that I grew up and my parents told me that if I worked hard and I dreamed big I would be successful. But I want to be clear. I donít see what I do as helping people at all. I see what I do as creating opportunities for people to help themselves.