Looking for a high-paying STEM (science, technology, engineering and math) job? The San Francisco Bay Area remains a good place to go to have a successful career in these fields, according to a recent study by financial analyst and data firm, SmartAsset.
The survey found that the area around San Francisco includes three of the top five cities for average pay in STEM fields, with San Francisco ranking second ($100,324), Oakland fourth ($95,032), and Silicon Valley -- with cities like San Jose, Mountain View, and Palo Alto -- ranking fifth ($94,609). Nuclear engineers, chemical engineers, and statisticians are among the highest paid positions in the area, according to the survey
The average highest paid STEM workers are found across the country, however, in the area that encompasses the Washington, DC bedroom communities of Bethesda, Rockville, and Frederick, Maryland. Employees in the field there receive an average pay of $100,787, with nuclear engineers, physicists, and mathematicians receiving the most pay.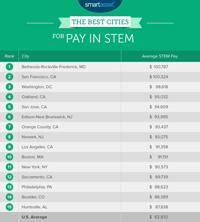 These geographical areas arenít surprising for providing well-paid STEM jobs. The San Francisco Bay Area, after all, is the birthplace of the booming Internet and technology industry we have today; home to Google, Apple, Facebook, and a long list of other tech industry heavyweights.
Meanwhile, the Potomac Valley area of Maryland boasts many of the US governmentís top research and development agencies, like the National Institute of Health, the Walter Reed National Military Medical Center, and the US Nuclear Regulatory Commission. Lockheed Martin also has a large facility there.
MORE FROM DESIGN NEWS: 15 Engineering Disciplines by Salary & Job Prospects
Another area of the country where itís possible to get a well-paying STEM position may be surprising, however. New Jersey, known more for careers of questionable merit (if popular television series like The Sopranos and Boardwalk Empire are any indication) actually is home to two of the top 10 metro areas for well-paid STEM jobs, according to the survey.
Edison-New Brunswick, N.J. and Newark, N.J. -- the latter a suburb of New York City and the former a bit further away in the central part of the state -- also are good places to find lucrative positions in STEM fields. The average wage for STEM workers in the Edison-New Brunswick area (No. 6 on the list) is $93,995, while employees in these fields receive an average of $93,075 in Newark, which took the No. 8 position.
Companies like Bristol-Meyers Squibb, Johnson & Johnson, BASF, and Siemens AG are large STEM employers in the Edison-New Brunswick area, while Audible.com, CR Bard, Synthetic Plastics Company, and BAE Systems are providing positions in STEM fields in Newark.
MORE FROM DESIGN NEWS: Are You Being Fairly Paid?
Rutgers University also has campuses in both areas, which also accounts for one the highest-paid positions in both areas -- university economics professors. Engineering professors also do well in the Edison-New Brunswick area, while statisticians are among the highest paid in Newark.
Other metro areas that made the top-10 list are: Washington, DC at No. 3; Orange County, Calif. at No. 7; and Los Angeles at No. 9, followed by Boston; New York; Sacramento, Calif.; Philadelphia; Boulder, Colo.; and Huntsville, Ala,. to round out the top 15. A full list of the best places for STEM pay can be found online in the survey.
While many may think technology jobs at high-profile companies like Facebook and Google would earn the highest pay, they should think again. According to the survey, positions in mathematics and engineering tend to earn more than their software developing and programming counterparts, with the former earning more than $130,000 on average per year in many of the listís top cities.
Elizabeth Montalbano is a freelance writer who has written about technology and culture for more than 15 years. She has lived and worked as a professional journalist in Phoenix, San Francisco, and NYC. In her free time she enjoys surfing, traveling, music, yoga, and cooking. She currently resides in a village on the southwest coast of Portugal.