Schools are beginning to see the benefit of using 3D printers with students to help them be more creative and learn science, technology, engineering and mathematics (STEM) skills. However, sometimes it's still cost-prohibitive for educational institutions to buy the machines or school staff members don't have the expertise to work them properly.
A fledgling company called 3DPrinterOS aims to make 3D printing accessible to more schools by offering cloud-based software that is printer agnostic as well special educational licenses to give schools access to the tools they need for an optimal 3D printing experience, said Aaron Roy, head of operations and strategy at the company.
Roy said it's not cost that's always the barrier for schools to have 3D printers. He said his company was surprised to find that many schools have 3D printers that they don't use because of compatibility issues with other printers on a network and/or lack of skilled people to solve technical issues.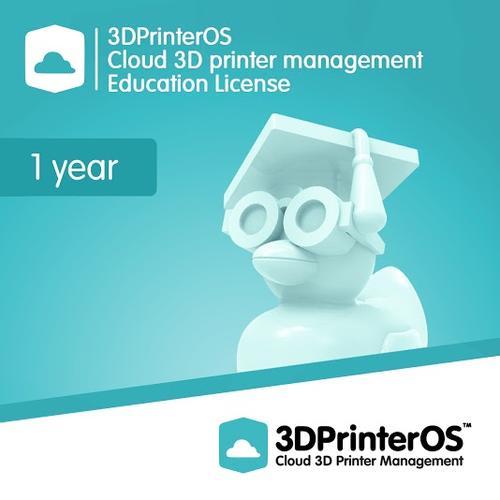 "One of the biggest problems in 3D printing is every machine has its own specific workflow, this creates a barrier of entry for users—and schools—as it's difficult to choose what machine is right to invest time and resources into learning," he said. "Also most software right now is made by hardware companies specifically for their own machines, and can be quite hard to work with."
3DPrinterOS aims to be a Microsoft of the 3D printing world of sorts, a software-only company that built its software to work across different printer types to "make this incredible technology accessible and useable by the general public," Roy said.
Part of that strategy is to connect printers together in the cloud, which makes them easy to be shared across entire networks, he said. "This way no matter what type of 3D printer a school or business chooses, they have an easy workflow that's accessible for the entire campus, not just a few select students or employees," Roy said.
The company recently released educational and premium licenses with partners including Dynamism, 3D Connectors, 3D Printlife, CreativeTools, and 3dortgen to provide bundles of tools schools and educational institutions need to make 3D printing easy to use and manage. 3DPrinterOS consulted with universities such as Duke, Purdue, and Florida State to develop the licenses, which allow schools to distribute and track access to 3D printers across campus, the company said.
The 3DPrinterOS educational license brings connected printing capabilities to almost any make or model 3D printer, according to the company. Schools can manage a printer from a Web dashboard that also supports multiple printers, providing a unified management system for all of the printers on a network.
Chip Bobbert, digital media engineer at Duke, said 3DPrinterOS and its educational license allowed the school to streamline its use of seven printers, with students accumulating 1478 hours of 3D printing across 601 print jobs in its first four weeks of use. "3DPrinterOS allowed us to maximize output while minimizing input and at the same time gave a tool to our makers that is simple, easy to use, and requires a minimum amount of training," he said.
In addition to free licenses for the 3DPrinterOS, the new premium license gives users access to the 3DPrinterOS direct print API and premium applications including Virtual Factory and HD camera support, the company said.
The direct print API gives users customizable tools for building their own 3D marketplace or selling designs. The API includes editing tools, Magic Fix for design preparation, and direct streaming without exposing source files to supported printer types, according to 3DPprinterOS. Virtual Factory gives users the ability to manage workflows for laser cutters, CNC machines and industrial 3D printers up to the point of production, as well as mark as complete once a job is finished.

Elizabeth Montalbano is a freelance writer who has written about technology and culture for more than 15 years. She has lived and worked as a professional journalist in Phoenix, San Francisco and New York City. In her free time she enjoys surfing, traveling, music, yoga and cooking. She currently resides in a village on the southwest coast of Portugal.