It's the stuff Hollywood movies are made of: an unlikely team of high school misfits beats the odds and triumphs over adversity to win the biggest game of their lives. That's the story told in Spare Parts, a major motion picture starring George Lopez, Jamie Lee Curtis, Carlos Pena, and Marisa Tomei. What makes this movie stand out from the typical high school sports story is that the teenagers are undocumented immigrants, and the big game is a NASA-sponsored marine robotics competition. Like many other Hollywood movies, however, Spare Parts only tells part of the story. What the film shows -- and doesn't show -- raises important issues affecting STEM education in the United States.
Spare Parts is based on a book of the same title by Joshua Davis, a contributing editor for Wired magazine. Davis tells how a team from an inner-city Phoenix high school beat teams from MIT and other top universities in the Marine Advanced Technology and Education (MATE) robotics competition. He tells the stories of Cristian Arcega, Lorenzo Santillan, Oscar Vazquez, and Luis Aranda, the members of Carl Hayden High School's 2004 underwater robotics team -- before and after their inspiring victory. He also tells the stories of Fredi Lajvardi and Allan Cameron, the team's mentors (combined in the movie into a single character, played by Lopez).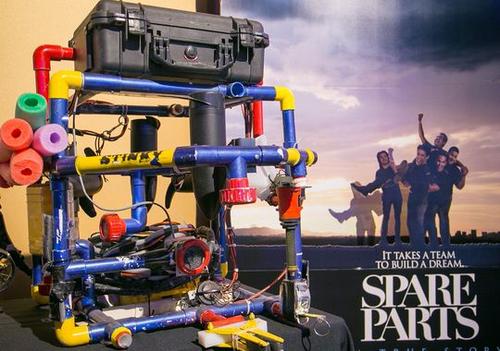 All of the team's four members immigrated to the United States at a young age: Oscar at the age of 11, Cristian and Luis at age 5, and Lorenzo at 9 months. Of the four, only Luis had a green card at the time of the competition. The other three, like an estimated 360,000 high school students in the US, were undocumented.
Each of the four students came into the robotics club in a different way. Cristian was a born engineer: he disassembled his parents' radio at age 4, and decided he wanted to build robots at age 5, while attending a kindergarten in Mexicali built from discarded shipping pallets. After coming to the US, he learned English by watching Bob Vila's home improvement shows on TV, and quickly became a straight-A student. In contrast, Lorenzo's grades weren't so great, but not because he wasn't smart: he taught himself difficult piano pieces by composers like Debussy, Satie, and Chopin on a Salvation Army piano that was missing a few keys. He became interested in engineering by watching his godfather and brother fix cars as driveway mechanics. Oscar, who grew up in a tiny town in the Sierra Madre mountains, was an outstanding cadet in the school's Junior Reserve Officer Training Corps (JROTC) unit and was inspired by the words of the Declaration of Independence and the US Constitution to serve his adopted country. Heartbroken that his legal status would prevent him from enlisting in the US armed forces after graduation, he joined the robotics team, looking for a place to fit in. Luis was a big, quiet kid with a passion for cooking; Oscar recruited him to join the robotics team in order to have someone strong enough to do the heavy lifting.
MORE FROM DESIGN NEWS: What's Your Pick for Best Engineering Movie?
The team was guided by teachers Fredi Lajvardi and Allan Cameron. Lajvardi, an Iranian-American who grew up in Phoenix, had built a hovercraft from balsa wood, notebook paper, and a small electric motor in eighth grade. Encouraged by a teacher, he continued to develop the design through his high school years, eventually building a fiberglass hovercraft with a 60 HP snowmobile engine that won awards at the state science fair:
This experience eventually led him into teaching and inspiring students to develop their own creations. Cameron, a Vietnam veteran, went into teaching after leaving the military and eventually earned a PhD in elementary education. Although his advanced degree could have opened up many activities for him, he found that teaching inner-city students was the most rewarding.