Since 1987, teams of engineers around the world have built solar cars to participate in a road race around Australia called the World Solar Challenge, being tested on the race time, kilometers traveled, practicality, and energy used by the vehicles they invent.
In 2013, a team of students at the University of Minnesota took part in the challenge with a car they dubbed "Daedalus" that successfully completed the race, learning valuable lessons and engineering experience along the way that they can take with them into careers in engineering, they hope.
Daedalus was designed, not only for the Australian race, but also as part of the Solar Vehicle Project at the school, an organization of undergraduate engineering students who research, design, and construct a solar vehicle every two years. Daedalus also has participated in the 2014 American Solar Challenge, in which it placed second.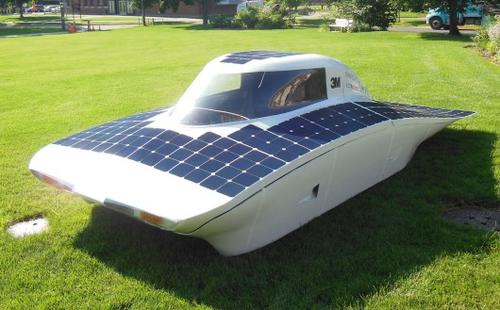 "I can't emphasis enough how valuable the experience is, gained on large-scale student competitions such as the Solar Vehicle Project," Todd Colten, a former UMN student and an alumni of the project who now is the lead aerospace engineer at FourthWing, where he designs unmanned aerial vehicles, told Design News. "[It combines] real-world technical skills, leading-edge technologies, working well in cross-disciplinary teams, working with public relations and media relations, fundraising, project management, schedules, and budgets -- plus it's a ton of fun. It's the real deal."
"This car is a huge challenge for everyone who works to design and build it, and the skills you gain are incredibly useful," Bryan Dean, a senior in mechanical engineering at UMN and project lead of the university's Solar Vehicle Project since November, told us. He said that one problem with an engineering degree is that classes are so rigorous students don't have until their senior year to gain hands-on experience in the field. "The tools and techniques that you use in actually designing are not necessarily taught; they have to be learned through experience. Getting time to hone your skills before you graduate sets you apart from other graduating engineers."
Participating in the World Solar Challenge gives students an opportunity to do this and work on a challenging design project, learning lessons they can take with them into the workforce without the pressure of being in an actual career position, he says.
"The Solar Vehicle Project is also great, because failure can happen and people learn from it and move on. Our members don't have to worry about disappointing bosses or losing their jobs," says Dean. "It's less stressful than an actual job, but you learn just as much, if not more."
Students at the university have been building solar cars for a number of years, first participating in the World Solar Challenge in 1999. Last year they decided to participate again in the race, with the help of PTC Creo, which provided a CAD tool that they used to design the car. Stratasys, Nvidia, General Mills, TruTech, and SunPower also were corporate sponsors of the team.