Kids' Camps will be happening this week in Utah, Texas, Oklahoma, and California, but it is the official last week of the camps. (GoEngineer is actually doing one more custom class for Boy Scouts on August 13. We hope to do a custom Girl Scouts camp next year!)
We were surprised and impressed again this year with the kids who attended our camps. They proved to be incredibly bright, technical, inquisitive, excited and, as we'd hoped -- inspired!
The GoEngineer team members enjoyed stepping out of their serious day-to-day business responsibilities to teach kids and have fun. Who wouldn't be excited to launch a 3D-printed propeller toy 100 feet into the air?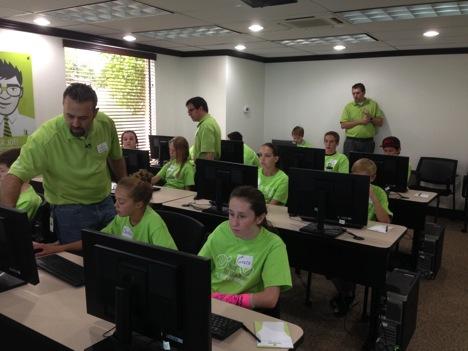 But the really exciting part of this entire program is seeing that little spark in a student's eyes that says, "Hey! That gives me an idea!" or "I didn't know I could do this!" It is GoEngineer's hope that more and more youth today will connect their interests to the engineering disciplines.
3D printing is one the coolest and hottest topics globally right now. Of course kids think it's cool, too, but they are the first ones to push past the "I'm in awe" moment to questions such as, "What else can it do? If it can print that, I wonder if it can print a few missing Lego pieces I need to complete my model."
With Kids' Camp, we aim to inspire this generation to see that they are the innovators of tomorrow's products and can actually shape their world. We simply give them a glimpse into the tools that are available now and a few real-life applications in 3D design and 3D printing. The rest is up to them.
From what we've seen at this year's Kids Camps, the future is looking very bright!
Click here to see a video of the GoEngineer Kids Camp in action by David Skorut, Nicholas Cockrell, and Harry Han.
Related posts: