Innovative engineers seem to get younger and younger these days, with the adolescent set doing everything from creating brainwave-powered artificial arms and a flashlight that runs on energy from a human hand.
Suman Mulumudi, 15, is among this impressive new group of teen inventors, but he's not only created an innovative way to turn a smartphone into a stethoscope, he's also formed his own startup, StratoScientific, to sell his invention.
The Steth IO, which Mulumudi began designing last June with his cardiologist father, Mahesh Mulumudi, as the flagship product and impetus for his company, clips onto an iPhone to turn into a stethoscope, providing a digital version of one of the doctor's oldest tools. The father-son team formed StratoScientific in November to continue developing the product.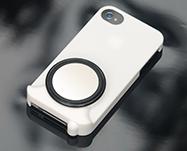 The idea behind the Steth IO came from discussing his father's work and how outdated the stethoscope remains as a diagnostic tool, Suman Mulumudi told Design News:
The idea that a device that is essential for diagnosis hadn't yet been brought into the digital and quantitative world seemed outrageous. The idea that a doctor would qualitatively record the data that they get from performing an auscultation (the process of listening to the heart with a stethoscope) is a major gap in modern medicine. It is through these discussions with my father, a constant exposure to the problem, and my diverse experience with technologies, such as 3D printing, that I was able to synthesize the idea for the Steth IO.
The Steth IO operates by using an audio wave guide to channel sound from the stethoscope bell to the microphone of the smartphone, using the acoustic technologies of the smartphone to pick up subtle heart sounds, Suman Mulumudi told us:
Smartphone manufacturers have already spent a great deal of time designing high-quality audio components, and so the Steth IO is able to leverage this design using a low-cost solution. Software on the phone, with some basic filtering, displays the heart sounds on the phone screen for the user, in addition to allowing them to hear the sound as one would when using a regular stethoscope.
StratoScientific is currently using third-party applications for visualizing heart sounds on the Steth IO, but is designing and developing its own software for this use that will be more customized for the product, Suman Mulumudi said.
His mother is also a doctor, but despite growing up with two physicians he told Design News that he wouldn't have imagined when he was young that his interest in inventions would lead him first into the medical field. However, his parents' influence obviously won out, he said:
I believe that "invention" happens when you are in an environment that displays the problems that you aim for your invention to solve. But in addition to that, I believe that the medical devices have a huge potential to bring good to the world. I find the idea that a device that I create can have an impact on people's lives to be both profound and fulfilling, so inventing medical devices is a way for me to bring good to the world.
Mulumudi recently appeared on The Tonight Show to demonstrate the Steth IO (watch it below). In addition to Steth IO, StratoScientific is also developing LesionSizer, a device aimed at cutting back on unnecessary stents in angioplasty.
Suman Mulumudi currently juggles his responsibilities at the company with classes as a high school freshman in Seattle. He said self-discipline is the key to being successful in both aspects of his life:
On days I have meetings, I schedule them right after school, and I start homework as soon as I return home. I also spend some time each day, after completing my homework, doing company-related work. By having the discipline to always make sure to get both some school and company work done each day, I am able to stay on top of my work.
StratoScientific is in the prototype phase of development for the Steth IO and hopes to have a version that people can use soon, Suman Mulumudi said. The company is currently taking pre-orders.
<
All claims, according to Suman Mulumudi, are yet to undergo FDA approval and clinical validation.
Related posts: