Two women studying at Cornell University have won $10,000 for designing and developing a Web application that can help people make healthier choices while grocery shopping.
Claire Lambrecht and Rachel Wang -- both MBA students at Cornell Tech, part of the Johnson Graduate School of Management -- shared the TradingScreen Technology Entrepreneurship Award at the recent "Dream it. Code it. Win it." student coding competition for an application called Epicure.
The contest -- open to university and high school students and co-organized by the MIT Club of New York, MIT Enterprise Forum of New York City and TradingScreen -- is aimed at promoting creativity, diversity, and literacy in the field of computer science.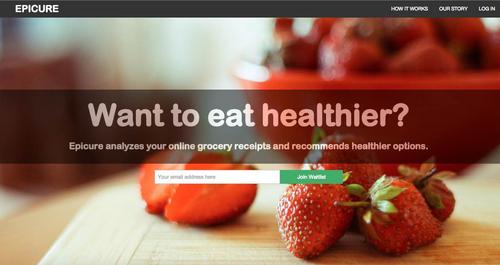 MORE FROM DESIGN NEWS: Graphic Novel Draws Kids to STEM Careers
Epicure automatically analyzes online receipts from people's personal grocery shopping and recommends healthier options to the items they've chosen, Lambrecht and Wang told Design News.
"Changing eating habits is hard," Wang explained. "Existing products aren't much help. They require you to count calories, log food journals, and buy specialty foods. Epicure makes it easy to change your eating habits. All you need to do is log in, and our system automatically handles the rest."
Epicure uses a stoplight system developed by Stanford University to rate the health of someone's cart when they shop, Lambrecht told us. Green is for healthy foods, while yellow and red mean the item is unhealthy and could do with replacing. In the case of yellow and red alerts, Epicure will suggest three alternatives to these foods, she said.
MORE FROM DESIGN NEWS: DiscoverE Encourages Girls To Find Their Inner Engineer
"Over time, Epicure learns your preferences -- serving up a personalized shopping cart that's ready to go the next time you shop," Lambrecht said.
Lambrecht and Wang teamed up with Cornell technologist in residence Michael Carroll and Professor of Computer Science Deborah Estrin last autumn to begin developing the app, which uses the Gmail API to pull up a user's online receipts and then scrape and visualize the data for nutritionists to provide recommendation, they said.
MORE FROM DESIGN NEWS: Discover-E's 'New Face' of Engineering Helps Bridge the Opportunity Gap
Carroll "developed a three-pronged approach of a nutritional API, a rules engine, and seasoned nutritionists, enabling us to make this intimate user experience a proven, scalable solution," Wang said.
The team also received valuable feedback about the app's user experience from technology CEOs Brian Schechter of HowAboutWe and Irving Fain of CrowdTwist. Classes in product management, business models and sales also helped them refine their application.
Lambrecht and Wang weren't the only young women to win a top prize in the competition. In fact, there were more women than men among the finalists, showing that despite recent research to the contrary, the presence of young women is indeed alive and well in STEM fields.
MORE FROM DESIGN NEWS: Engineer-Backed Competition Envisions Woman on TV as 'The Next MacGyver'
"Technology and business are inseparable," Lambrecht said. "It's important for young women to pursue STEM careers because it's critical that women play a role in business."
A pair from Pace University -- Julie Gauthier and Olga Bogomolva -- also won the $10,000 Award for Women in Technology sponsored by Estee Lauder for Codapillar, a Web application aimed at making learning how to code more social, fun, and intuitive. A complete list of finalists and winners can be found on the competition website.
Wang and Lambrecht plan to use the prize money to create a more visually appealing product with a "fantastic user-experience overlay," Wang said. They also plan to focus on building partnerships with health insurance companies and online grocers in the coming months, Lambrecht added.
Elizabeth Montalbano is a freelance writer who has written about technology and culture for more than 15 years. She has lived and worked as a professional journalist in Phoenix, San Francisco, and New York City. In her free time she enjoys surfing, traveling, music, yoga, and cooking. She currently resides in a village on the southwest coast of Portugal.
Atlantic Design & Manufacturing, the largest advanced design and manufacturing trade show serving the Northeastern US, will take place in New York, June 9-11, 2015. It's your chance to meet qualified suppliers, get hands-on with the latest technologies, and expand your network. Learn more here.