Engineering encompasses dozens of disciplines and for this reason students of engineering have traditionally chosen between mechanical, electrical, computer, chemical, and civil engineering specialties. This worked for decades if not centuries. Today, however, we live in a world in which machines have robotic elements, cars have telecommunications capabilities, and control systems have networked sensors.
The term "mechatronics" was coined by a Japanese company in the early 1970s, but only recently has the still-considered-emerging discipline become fully fleshed out at the academic level. A number of universities now are launching programs, labs, and certifications for mechatronics engineers. Students are taught a multidisciplinary approach to problem solving, including a systems integration approach to design and modeling.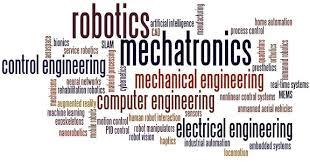 Last year, Florida State College at Jacksonville developed a mechatronics certification. The first class comprised 27 students, and 20 more will graduate this summer. Rochester Institute of Technology also offers a mechatronics certification. While their certification programs help train technicians, other schools are focusing their efforts to create Accreditation Board for Engineering and Technology (ABET) degree programs that turn out (in essence) mechatronics engineers. (Here is a list of schools with mechatronics degree programs.)
Chico State University recently became the first university in California to offer an ABET-approved degree in mechatronics. Chico State's newly officially recognized California Mechatronic Center specializes in robotics and surveillance vehicles and works closely with Lawrence Livermore National Laboratory. Other universities are approaching mechatronics from an auxiliary research foundation angle, allowing faculty and students to collaborate on real-world projects.
MORE FROM DESIGN NEWS: Go Fail in the Real World: Google[x]'s Advice to Engineers
At Penn State University, the Mechatronics Research Lab focuses on smart structures, advanced actuators, and battery systems engineering. Dr. Chris Rahn, head of the lab, told Design News that marketplace demand for complex products is driving new mechatronics applications and therefore the need for engineers who are educated with multidisciplinary approaches.
"Products are getting smarter all the time, and that means more electronics, microprocessors, and software," he said. "Low-tech products like thermostats suddenly have brains. Who would have guessed that a company making thermostats would be worth $3.2 billion?"
Rahn said consumers have come to expect that even what was once the most seemingly low-tech product will have all the mechatronic bells and whistles. "So the demand for engineers who can work in this interdisciplinary field is constantly growing," he said.
But how do you prepare someone in multiple disciplines of engineering in the time it takes to earn a traditional bachelor's degree in a single discipline? According to Rahn, you don't.
MORE FROM DESIGN NEWS: 2015's Top 15 Engineering Schools by Salary
"Traditional undergraduate programs in electrical engineering or mechanical engineering do not train students in mechatronics," he told us. "So the supply of mechatronics engineers is tight while the demand is increasing. The undergraduate curriculum in mechanical or electrical engineering is already crammed full of important topics."
Rahn noted that while it is very difficult to educate a mechatronics engineer in just four years, there are many excellent graduate programs. "With an extra year or two of graduate school," he said, "students can fill the voids from their undergraduate major and become true mechatronic engineers."
And true mechatronic engineers, it would seem, are worth their weight in gold in industry today, with many of them being hired even before they walk the stage at graduation. For this reason, many students are finding that some exposure to mechatronics even at the undergraduate level will be beneficial for improving job opportunities. In part two of this look at mechatronics STEM, Design News will look at some universities using faculty-student research foundations to further mechatronics research and assist industry in new multidisciplinary applications.
Tracey Schelmetic graduated from Fairfield University in Fairfield, Conn. and began her long career as a technology and science writer and editor at Appleton & Lange, the now-defunct medical publishing arm of Simon & Schuster. Later, as the editorial director of telecom trade journal Customer Interaction Solutions (today Customer magazine) she became a well-recognized voice in the contact center industry. Today, she is a freelance writer specializing in manufacturing and technology, telecommunications, and enterprise software.
Atlantic Design & Manufacturing, the largest advanced design and manufacturing trade show serving the Northeastern US, will take place in New York, June 9-11, 2015. It's your chance to meet qualified suppliers, get hands-on with the latest technologies, and expand your network. Learn more here.