STEAM (science, technology, engineering, art, mathematics) education overseas just got a boost from Autodesk, which is now offering its design, engineering, and entertainment software free to students, teachers, and academic institutions across the world.
More than 680 million students and educators from more than 800,000 secondary and post-secondary schools in 188 countries can now access full versions of Autodesk's cloud-based products, such as the A360 collaboration platform and Fusion 360 for 3D printing, for free.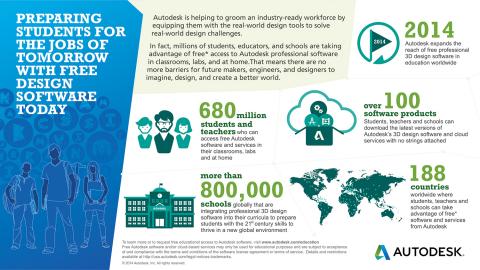 The software already has been available to middle and high schools in the United States since February as Design the Future, a part of President Obama's ConnectED program to support STEAM efforts. Autodesk originally committed to making $250 million worth of 3D design software, project-based curricula, training and certification available to every middle and high school in the United States in 2014.
In May Autodesk expanded that offering to higher education institutions in the United States as well and has now taken this free-software commitment overseas to Asia Pacific and Europe—specifically in Australia, New Zealand, Japan and South Korea, Rebecca Wong, Autodesk's public relations manager for education said.
"It's worth highlighting these are not 'lite' versions or limited versions of our professional 3D design software," Wong said. "Students and educators get access to the latest and greatest products from Autodesk at the same time that our commercial customers do."
Autodesk also is providing free hands-on project-based curricula aligned with industry best practices and demands for use inside and outside the classroom through its Digital STEAM Workshop and Design Academy Design Academy projects, she added.
"By putting real-world design tools into the hands of students to solve real-world design challenges while they're in school, we can also help prepare an industry-ready workforce and provide our commercial customers with a ready pool of skilled talent to recruit from," Wong said. "It is rare when good business and doing the right thing intersect, and we are proud to be giving back to education everywhere in the world."
By teaming with private-sector partners like Autodesk, the Obama administration itself has been a big proponent of what were previously called STEM efforts (art was added recently), the most active presidency to date in promoting youth education for the engineering fields.
From hosting the first White House Maker Faire for inventors young and old in June, to being the first president during the recent Computer Science Education Week to write code —as well as encouraging kids to do the same—Obama also has been doing his part to help create the next generation of engineers in the United States.
More information about Autodesk's Design the Future campaign can be found on the initiative's website.
related posts: