On the surface, Hip-hop and physics don't seem to have much in common. But Honeywell and NASA have linked them together for more than 10 years in the FMA Live! Program, which visits schools to inspire an interest in STEM in the students there through music and dance.
The FMA Live! Forces of Nature show is currently on its Fall 2015 tour that will hit 40 public, private and military-connected middle schools in 10 states; Minneapolis, Wisconsin, Indiana, Illinois, Iowa, Missouri, Kansas, Kentucky, Tennessee, and North Carolina. The program also will travel to the west coast of the United States in spring 2016.
The show uses hip-hop music and dancing to show how physics plays a role in everyday life. In the latest show, Isaac Newton's universal law of gravity and three laws of motion feature prominently. Indeed, the show takes its name from Newton's second law of motion, "force equals mass times acceleration" (FMA).
The show features live actors who perform songs and interactive scientific demonstrations as well as music videos and video interviews with scientists and engineers from NASA's Jet Propulsion Laboratory to teach Newton's Three Laws of Motion and Universal Law of Gravity.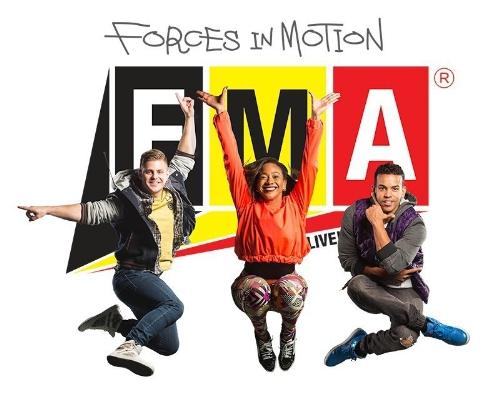 Using hip-hop as a learning bridge for STEM has been a good way to get kids at the middle-school level engaged in thinking about topics that might not have interested them, said Donald James, NASA Associate Administrator for Education, of the show.
"Every child should have a solid foundation in STEM, which can open doors they may not have known existed," he said in a press statement. "Getting them excited is the first step—from there, the career possibilities are endless."
NASA and Honeywell also developed the program with teachers in mind. The FMA Live! Forces in Motion program also includes an online "Teacher's Lounge" with free lesson plans and other tools so the show's learning potential can extend to the classroom.
"Today's students are tomorrow's engineers and scientists," said Mike Bennett, president of Honeywell Hometown Solutions, the company's corporate citizenship initiative. "We know that STEM learning teaches students critical-thinking and problem-solving skills that are applicable to nearly every career field."
Since its inception, FMA Live! has been performed before 415,000 students in more than 1,100 schools from all 48 contiguous US states, as well as in Mexico and Canada.

Elizabeth Montalbano is a freelance writer who has written about technology and culture for more than 15 years. She has lived and worked as a professional journalist in Phoenix, San Francisco and New York City. In her free time she enjoys surfing, traveling, music, yoga and cooking. She currently resides in a village on the southwest coast of Portugal.