An 11-year-old boy who's been dubbed the "Space Kid" will be one of the first civilians to have his design manufactured in space, thanks to the City X Project, which inspires kids to think about new 3D-printed inventions that could be useful for humans living in space.
James Banks, of Appleton, Wis., designed something for the project with 3D modeling software that he calls a Health Coaster, which will be manufactured using a 3D printer by astronauts on the International Space Station (ISS) early next year.
IDEAco partnered with 3D Systems for the City X project, a three-day workshop aimed at stirring interest in design and creativity in kids ages 8 to 12, as well as giving them hands-on experience with 3D printing.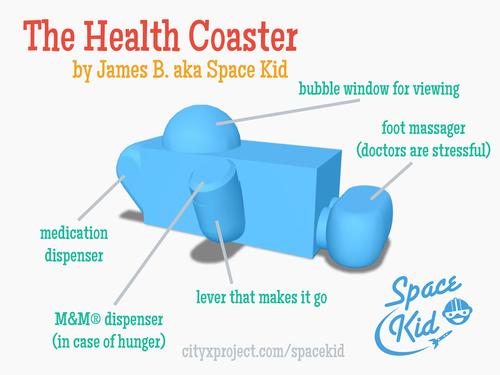 City X recently worked with Made in Space, the Mountain View, Calif. company that's brought additive manufacturing capabilities to space, to create a contest in which kids participating in the project were asked to design inventions for people living in the fictional "City X," the first human settlement on another planet where everything is created.
James told Design News he created his design for "Miguel," a fictional resident of City X who broke his arm. The Health Coaster -- so-named because it is modeled after the thrill ride -- is aimed at providing medical treatment to someone sitting inside it.
"The Health Coaster is kind of like a mobile bed that can heal almost any part if your body," he told us. "It has a foot massager and M&M dispenser to keep the patient relaxed."
Specifically, the patient sits inside the Health Coaster, where a special device will administer whatever medical treatment is needed. They receive a foot massage during their treatment, the pressure of which is controlled by a panel that doubles as a storage device for the aforementioned M&Ms, in case the patient gets hungry. The invention sits on a rollercoaster track.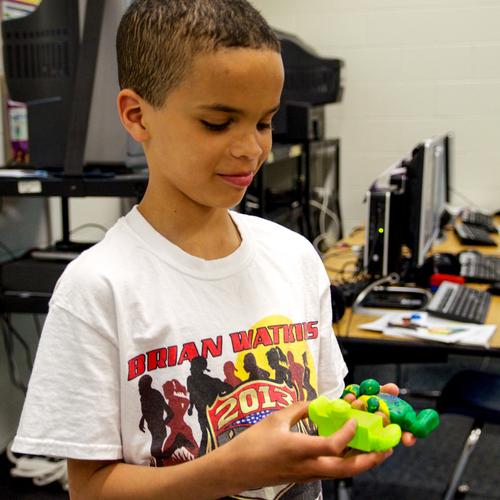 Judges chose James's design to be printed on the ISS for a number of reasons, Matthew Straub, co-founder & director of communications at IDEAco, told Design News. One was that it is fairly easy to print, dense, and can be 3D printed without any support structure, criteria the Made in Space team told City X project administrators were important to printing in zero gravity.
But those weren't the only reasons, he added. "We chose James's model not just because it fit these physical criteria, but because it was one of our favorite models to show kids in City X Project workshops around the world," Straub said. "James did such a great job making sure that the Health Coaster solved every facet of his citizen's problem, and he did so with such creative flair."
James told us he's long been interested in design, creating structures with Legos, clay, and erector sets. City X gave him an opportunity to "be creative and come up with something different," he said. "It was fun and I really liked it," he told us. As for the idea of his invention being printed in space, "it's really exciting," he said. "I really hope I'll get to see if it comes back to Earth!"
City X has evolved into an open education resource available as a free download for teachers -- to date it has been downloaded more than 700 times in 50-plus countries.
James's design will be sent to the ISS before the end of the year. It will be printed by the astronauts onboard sometime in early 2015, Straub told us.
Related posts: