A Pennsylvania middle-school teacher who thought it was important to learn how to code robots so he could relay that knowledge to his students has won a design competition with a 3D-printed robotic device that can pick up and place Rice Krispies in a moving container.
Kit Fuderich is a 6th grade technology and 9th grade tech workshop teacher at Lancaster Country Day School school in Lancaster, Penn. He recently won the element14 Teacher's Pet Road Test contest -- in which he participated mainly so he could learn technical computing language MATLAB and graphical programming environment Simulink from MathWorks.
Fuderich's winning device is called the Rice Krispies Loader, and it does exactly that. It's comprised of a base, arm, hand and finger parts and uses a force resistance sensor that, when activated through pressure, causes a timed chain reaction of movements in which the device picks up a small amount of Rice Krispies from a bowl and deposits it in a moving container.
Fuderich did not enter the competition to become a robotic designer himself, however. Instead, he thought if he wanted to help his students become interested and excel in science, technology, engineering, and math (STEM) subjects, he should develop his own skills first, he told Design News in an interview.
"Participating in the Teacher's Pet Road Test, in which I had to learn MATLAB and Simulink, has enhanced my confidence for teaching programming," Fuderich said. "This is because learning something new is often the best way to learn how to teach; first and foremost I need to be able to explain a concept to myself before I structure activities for students."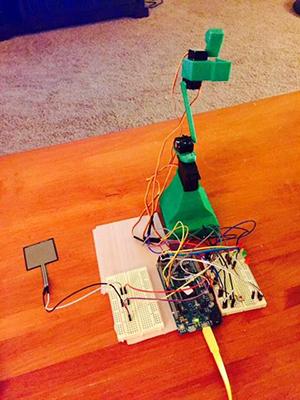 Fuderich said he experienced one of the feelings students might feel when faced with learning a new technology. "At first, learning MATLAB was intimidating because the development environment was something I did not know about," he said.
To introduce himself to the language, he used online tutorials, but soon found that hands-on learning with the actual robotic equipment was a better way to go, Fuderich told us. "An interactive method for learning MATLAB/Simulink, through robotics, was much more engaging and productive than when using the online tutorials -- at least for me," he said.
Fuderich said that in the end he found he focused more on learning Simulink because the coding environment made more sense to him. "I appreciated the graphical, flowchart feel of the programming blocks as well as the external mode which allows you to adjust variables while code is being run simultaneously on the target hardware," he said.
Fuderich said he now feels better equipped to teach his students these programming languages, although he said he has not integrated his new knowledge into his curriculum yet. But it reinforced his already-held belief that learning about robotics is important for middle-school not just for their future aspirations, but to help them develop both logic and creative skills, he said.
"The design process during robotics is akin to being an artist," Fuderich said. "Specifically, the technical aspects of learning how to construct a robot helps students gain experience with engineering design and the programming aspects push students to consider the logic behind decision making; the latter has mathematical qualities to it. In the end, robotics is a creative endeavor and is something we do not encourage enough in schools."
Elizabeth Montalbano is a freelance writer who has written about technology and culture for more than 15 years. She has lived and worked as a professional journalist in Phoenix, San Francisco, and New York City. In her free time she enjoys surfing, traveling, music, yoga, and cooking. She currently resides in a village on the southwest coast of Portugal.
Like reading Design News? Then have our content delivered to your inbox every day by registering with DesignNews.com and signing up for Design News Daily plus our other e-newsletters. Register here!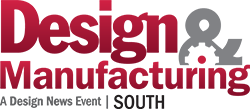 Design News will be in Orlando in November! Design & Manufacturing South will be in Orlando Nov. 18-19. Get up close with the latest design and manufacturing technologies, meet qualified suppliers for your applications, and expand your network. Learn from experts at educational conferences and specialty events. Register today for our premier industry showcase in Orlando.