Early in my career, I worked as a draftsman and remember the days of drawing on vellum with numbered pencils and Mylar with plastic lead. This was a fun experience in the sense that I could have direct interaction with the medium I was using. I don't, however, miss the days of manually erasing entire sections of a drawing by hand or with a powered eraser gun. Nowadays, when changes are required, it's hard to beat the capabilities and power that we're accustomed to with a modern computer workstation. I still enjoy CAD, mostly for my woodworking hobby these days rather than a career, but I definitely miss the direct interaction with the medium since using a keyboard and mouse can be awkward at times.
I find it exciting that the latest developments in touch are bringing back some of the directness that I really enjoyed. As more people use smartphones and tablets, touch interfaces are becoming very common and familiar to most people. Multi-touch (the ability to use multiple touch points to turn basic hand-based gestures into complex interactions) is opening the door to a more natural interaction with our devices. For example, with Microsoft's introduction of touch in Windows 8, I'd say touch is now "mainstream" and will be implemented in many more products in the future.
In the interest of bringing some of the direct interaction back to users, Dell has announced the latest enhancements to touch on the Precision Mobile Workstation – M6700 with the powerful Intel® Core™ processor family. Dell has partnered with Wacom, a leader in digital interface solutions, to bring 10-fingered simultaneous touch to our customers. Many people have a hard time wrapping their heads around how touch can make a difference in their design work. It's easy to see in a video that shows an innovative touch-based interface implemented by SpaceClaim Corp.
SpaceClaim takes full advantage of Windows 8's multi-touch capability, and of Dell's mobile workstations. The company's native support of M-T showcases both its ease of use and its context- and gesture-based interface, which is unique among 3D systems.
It's an interesting time for designers and I look forward to the new user interface paradigms that Dell and its partners will be able to share with users in the future. Where do you think touch UI will have the most impact? What are the best use cases going forward? If you have any thoughts on where touch will be most useful, let me know.
Scott Hamilton is the vertical market strategist for Dell Precision workstations. He has extensive experience in the computer graphics and software industry including media and entertainment, Internet, and CAD/CAE areas. At Dell, he works with some of our most strategic software application partners such as Autodesk, SolidWorks, Adobe, to develop programs and solutions for customers that demand the highest level of compute performance.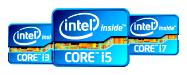 Ultrabook, Celeron, Celeron Inside, Core Inside, Intel, Intel Logo, Intel Atom, Intel Atom Inside, Intel Core, Intel Inside, Intel Inside Logo, Intel vPro, Itanium, Itanium Inside, Pentium, Pentium Inside, vPro Inside, Xeon, Xeon Phi, and Xeon Inside are trademarks of Intel Corporation in the US and/or other countries.