When I purchase a new product, whether online or at a store, nine times out of 10 everything works without a hitch.
Just like many of you, I've gotten used to and expect things to just work, update, sync, connect, and arrive on time every time. I often forget how much work goes on behind the scenes to make the products or services we rely on every day work as expected.
Dell Precision, featuring Intel® Core™ and Intel® Xeon® processors, is also dedicated to developing products that not only deliver a great first impression for engineers and designers, but work smoothly with specialized applications for the long haul. With its Technology Partner Program, strategic ISV (independent software vendor) and IHV (independent hardware vendor) partners work closely with Dell behind the scenes to ensure the highest level of performance and dependability.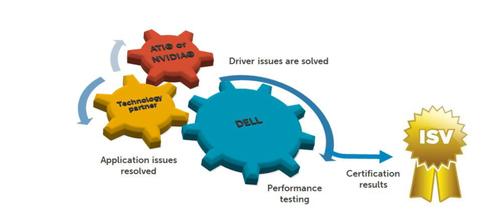 Dell offers more than 70 certifications from 30 key partners, including Intel®, delivering specialized software and hardware across four key vertical industries -- manufacturing and engineering, scientific, media and entertainment, and banking and finance. The list of engineering and design software partners includes Altair, Ansys, Autodesk, Bentley, CNC Software, Dassault, MSC Software, PTC, Siemens PLM Software, and SpaceClaim.
One great example of this is Dell's work with Siemens. For each workstation product, both mobile and fixed, Dell manually tests applications like Siemens NX™, Teamcenter®, and Tecnomatix™ before launching the products. The Dell certification team runs hundreds of hours of tests that fully exercise the system's capabilities with a battery of models to verify proper function and perfomance. The results are then validated by Siemens before the systems are certified. This testing is used to verify that system components, including the graphics cards, operating systems, and others, work as expected. If errors are discovered, Dell works with all parties to develop a resolution before the product is sold to a customer. Utimately, the customer gets a reliable system that's supported by each vendor.
Beyond testing and certifying, Dell works closely with its technology partners, such as Intel®, to provide customers with recommended configurations for their applications and workflows. These configurations are highlighted on Dell's solution pages (dell.com/smb/vision or dell.com/smb/design) and through the Dell Precision Workstation Advisor. These tools can help the user select the right Intel® Xeon® processor or Intel® Core™ processor to fit a specific engineering application. Joint roadmap planning, architecture, development, and testing is conducted to iron out any kinks before products are brought to market, providing customers with the best possible experience.
The next time you're churning through simulation models, manipulating 3D designs in real-time, or rendering a beautiful photo-realistic image without any problems on your high-end workstation, take a second to think about all the work that goes on behind the scenes and be glad you don't have to worry about it.

Ultrabook, Celeron, Celeron Inside, Core Inside, Intel, Intel Logo, Intel Atom, Intel Atom Inside, Intel Core, Intel Inside, Intel Inside Logo, Intel vPro, Itanium, Itanium Inside, Pentium, Pentium Inside, vPro Inside, Xeon, Xeon Phi, and Xeon Inside are trademarks of Intel Corporation in the US and/or other countries.