In industries such as aerospace, automotive, and heavy industry, companies rely tremendously on their engineering and design teams throughout the year to develop and deliver the innovations that create more value for their customers and more revenue and profit for the company.
Returning that goodwill, what would your engineers and designers like in their stocking this holiday season?
I recommend the gift that keeps on giving throughout the year… the gift of speed. Updated technology enables your applications to run faster, and therefore your talented, highly skilled team spends less time waiting and more time designing.
Pilatus is a world leader in the design and manufacture of single-engine turboprops, and it makes it a priority to ensure that its engineers are equipped with the latest technology and tools, supporting every phase of aircraft research and development. Pilatus uses Siemens Teamcenter product lifecycle management (PLM) software to provide the tools for each stage of development. It has learned that the amount of RAM, along with Intel® Xeon® processor technology that can provide real-time results, are crucial when manipulating large parts and assemblies that would otherwise delay highly paid designers. To support Siemens Teamcenter PLM software, Pilatus needs 12 Gbytes of storage per workstation, along with 64-bit operating systems.
With customers like Pilatus in mind, we recently did some tests of our entry-level workstation versus our standard desktop models to see the difference in speed. We found Dell Precision workstations that leveraged large amounts of RAM and Intel® Xeon® processors were able to complete tasks up to 972 percent faster than our standard desktops. The benchmark used SPECviewperf® 11, which mimics real-world scenarios of a user running workstation class applications.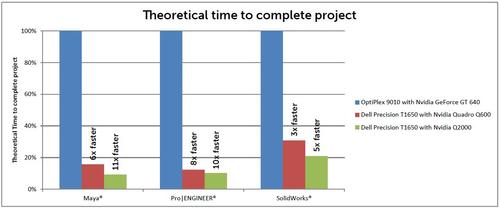 The engineers and designers at Pilatus will come back from a holiday break ready to meet the new technical challenges set before them, backed by modern technology. Share your holiday gift-giving ideas to help brighten the season for other development teams.

Intel, the Intel logo, Xeon, and Xeon Inside are trademarks or registered trademarks of Intel Corporation in the US and/or other countries.