In an October column about undersampling, I explained how a data acquisition system could use aliasing to move signals within bandwidth x into a lower-frequency portion of the spectrum. That column mentioned a spreadsheet used to calculate a sample frequency based on signal bandwidth and the center frequency (fc) of the bandwidth of interest. The spreadsheet for a signal at 55MHz with a bandwidth of 8MHz produces six upper- and lower-limit sampling frequencies, which are listed in the table below in Msamples/sec.

Before you choose a frequency, you should understand how each upper and lower sampling frequency affects the aliasing of signals in the bandwidth of 8MHz. The 102-Msamples/sec rate gives an fs/2 value of 51MHz. That means aliasing simply folds the wanted signals along the fs/2 axis to 43-51MHz. The aliasing also inverts the order of the frequencies, so those near 59MHz now appear near 43MHz, as shown in the figure below. If you sample at 59Msamples/sec, the signals fold along the fs/2 axis at 29.5Hz and appear at 0-8MHz -- also inverted. The diagram also shows results when n equals 4 and 5.
After diagramming the aliasing for all six values of n, the following rules emerged. When n equals an odd number, you should use the lower sampling frequency, and you can use signal processing software to invert the frequencies back to their original form. When n equals an even number, you should use the higher sampling frequency, and the signals remain in the proper frequency order.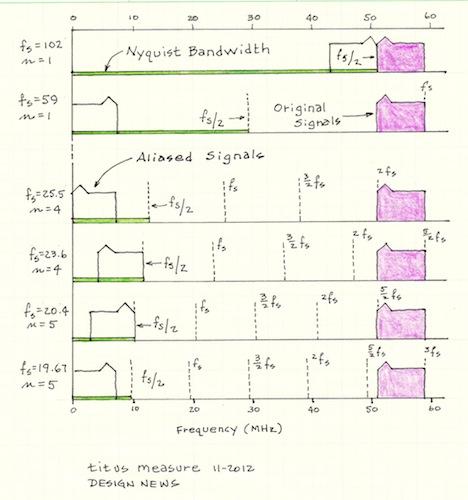 As n increases, the Nyquist bandwidth, or the 0-to-fs/2 frequency span, decreases and comes close to the bandwidth of the original signal. For higher values of n, the fs/2 value can encroach on the signal bandwidth and lead to unwanted signal aliasing that will affect your measurements.
As I explained in a September column, you cannot create a perfect anti-alias filter that cuts off frequencies below 51MHz and above 59MHz. Some signals and noise outside this range will appear in your aliased signal band. Allow space in your Nyquist bandwidth, fs/2, for these signals. In other words, do not try to choose a sampling frequency that places the Nyquist bandwidth too close to the bandwidth of your signals. Also, your bandwidth must not cross an fs/2 boundary.
In my next column, I'll discuss sample rates in more detail.
Do you have a measurement question you'd like answered here? Contact me at tituslabs@comcast.net.
Reference:
Lyons, Richard G., "Understanding Digital Signal Processing," 2 ed., Pearson Education, Inc., 2004. ISBN: 978-0-13-108989-7.
Related posts: