In May, we told you about Freescale Semiconductor's two-legged robot (FSLBOT) and controller board that lets engineers, students, and even hobbyists experiment with the robot's four servos and many sensors, and we thank you for the many interesting and helpful comments about it.
Here's an update:
I had successful communication with the robot through a USB port on my Mac. The Mac terminal simplified communications because the Mac did not require any special USB drivers -- it immediately recognized the robot's USB connection. And I didn't have to download drivers and go through an installation process. I still haven't figured out how to install the Windows XP USB drivers, and so far, Freescale's tech-support person hasn't provided a solution. He or she thinks I must first install the StickOS software on the robot, but it comes with that code installed and ready to go.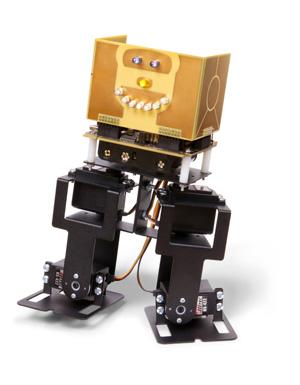 Many thanks to Rich Testardi at CPUstick for holding my hand via phone and email. Testardi tried mightily to help with the lack of a Windows USB connection and got me off on the right foot with the Mac connection. I loaded the "walking robot" BASIC code Testardi provided, but ran into a couple of minor glitches. First, I had to use the "save" command to place the code into Flash memory, which wasn't obvious. Then, the robot ran fine when powered with the four on-robot AA-size batteries.
Second, I could not reconnect to the robot after I ran the program, and my Mac terminal program would not respond to typing. Testardi said the robot got everything I typed, but it needed a CTRL-C to get back into interactive mode. I had used the BASIC autorun command so the robot would run the walking program as soon as I turned it on.
After communicating with the robot again, I tried several simple programs to test the servos, which worked fine. Now, I'll look into the 3-axis accelerometer sensor connections and then the magnetometer-sensor board, which came with the robot. (Sensor modules sold separately.)