Here in the US, basketball fans talk about March Madness, the playoffs between various college teams that lead to a final championship. With the Embedded World show behind us and the Embedded Systems Conference (DESIGN West) ahead, we're entitled to a bit of Microcontroller Madness. The following information brings you news about five product introductions of interest to engineers and product designers who use MCUs. (For non-US readers, "madness" simply means crazy and frenzied activities of fans of the college teams.)
New tools and ARM MCUs from Atmel
Atmel has introduced Studio 6, which combines ARM and AVR MCU software development tools in one free package. Anyone can download the beta version and use it right away. The move to a unified set of tools should simplify software creation for both MCU families, particularly when designers plan to work with the eight-bit AVR devices and the latest 32-bit ARM processors.
The Studio 6 integrated development environment includes more than 1,000 design examples and covers more than 300 Atmel AVR and ARM (Cortex-M3) chips. Designers interested in touch controls will find the needed QTouch Composer tools within the Studio 6 software. Those who use the AVR MCU family also can use a cycle-accurate chip and peripheral simulator.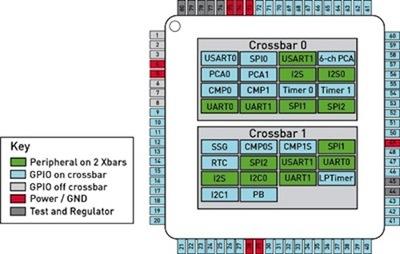 Atmel simultaneously introduced 40 new ARM Cortex-M3 processors in the SAM3 family, so engineers can choose less-expensive SAM3N chips with a bit less Flash memory or SAM3 MCUs with 512 Kbytes of Flash. These ARM Cortex-M3 devices operate at up to 48MHz and can use power between 1.62V and 3.6V. The new SAM3A and 3X families provide USB, CAN, and Ethernet capabilities.
ARM tools and measurements for game developers
ARM itself has a new set of tools, called DS-5 (v5.9), which will help product designers transfer games from larger to smaller mobile devices in ways that preserve or enhance the graphics "experience" yet help save power. The DS-5 tools also support the ARM Mali graphics processing unit (GPU). The DS-5 Professional Edition includes the Streamline Performance Analyzer, an advanced multiplatform debugger, the ARM compiler, fast simulation models of Cortex processors, and a comprehensive set of documents and examples. The performance analyzer lets you see graphic representations of API events, CPU and GPU activity, and software and hardware counters with a 1-msec resolution.