When you must evaluate sensors, you can buy evaluation boards that supply a bare sensor and "raw" signals through complete "systems on a board" that include a microcontroller, signal conditioning circuits, and perhaps a serial or USB port. Many engineers, though, need something in between; a sensor module with enough signal conditioning to provide useful information, and signals an MCU of their choice can work with.
Freescale has taken the latter approach with the latest board for the company's Tower System, a set of 8-bit MCU boards and peripheral devices that communicate via "elevator" bus boards. A variety of boards, some from third parties, lets engineers configure an embedded system that closely approximates the hardware envisioned for a final design. Then software development can proceed in parallel along the lines of a final design or a proof-of-concept model. You cannot always find that type of flexibility among evaluation boards and development kits.
Freescale's standard Tower-System architecture offers open-source hardware and software that engineers can adopt or adapt to their needs. The new modules that incorporate micro electromechanical system (MEMS) sensors extend the Tower-System approach and let you evaluate and experiment with sensors and communication protocols designed specifically for use in vehicles, although these types of sensors will likely find many other uses in mechatronic equipment.
Here's the lineup of the six modules included in the new TWR-SENSOR-PAK-AUTO:
Low-g X-Y accelerometer board (MMA6900, ±3.5 or ±5.0g full-scale range per axis).
Medium-g X-Y accelerometer board (MMA6500, dual-axis SPI inertial sensor and MMA6800, dual-axis SPI Xtrinsic airbag sensor).
High-g X and Z sensors board with PSI5 protocol (MMA5000, airbag sensor).
High-g X and Z sensors board with DSI protocol (MMA1600/MMA2600, ±50g to ±312.5g nominal full-scale range, used as vehicle-crash detectors).
The Peripheral Sensor Interface 5 (PSI5) communication development board (MC33789). The PSI5 interface uses a 2-wire current loop that handles data rates as high as 125 kbits/sec for Manchester-coded digital information. Vehicle-equipment manufacturers have used PSI5 communications in airbag controllers.
The Distributed Systems Interface (DSI) board (MC33781) connects sensors with a central controller via a 2-wire bus that powers slave and master devices that communicate in full-duplex mode. Like the PSI5 standard, the DSI standard finds use in automotive safety-related electronics.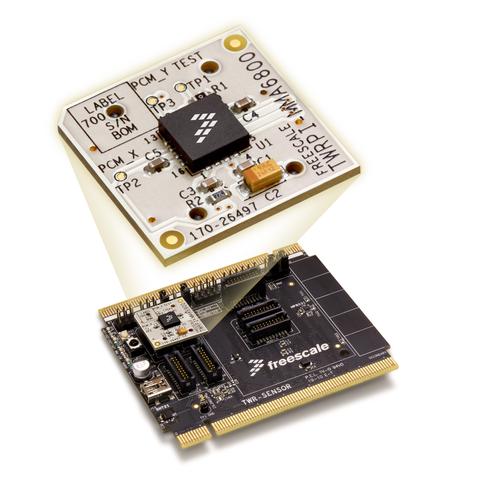 To use these modules, you need the TWR-SENSOR board, called a swappable sensor module, that connects modules to the Tower bus, or the TWR-SENSOR-PAK ($US 149). The latter package includes a TWR-SENSOR board as well as small modules for an accelerometer, barometric-pressure sensor, capacitive-touch keyboard, capacitive-touch controller, and a sensing software "enablement" module. Individual automotive sensor modules compatible with the Tower System main board can be purchased ranging from $US 20 to $US 90.
Technical documentation, firmware, and schematics for all plug-in modules are available. When I checked Freescale's Website on September 30, the company had "PREPRODUCTION" on this page, so you can find only limited information now for this series of modules. Freescale does have more information about the individual sensors and the Tower System, though.