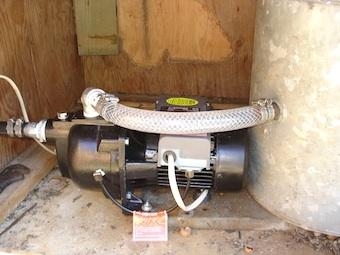 During summer vacations, my wife and I stay in a cottage that draws water from a clean lake about 30 feet away. A reciprocating Southern-Deming Model S-250 pump has worked well for more than 40 summers, and we have kept the pump and motor well maintained even though we use it only for a few weeks a year. A trip to the nearest hardware store or pump-repair business takes some time, so we have spare parts on hand -- drive belt, seals, plungers, fittings, and so on. I've replaced the leather plungers several times, the drive belt once, and have had to create a new line to the pressure switch, so it made sense to prepare for a pump failure.
This year when I primed the pump, I got a nasty surprise. The connection between the steel water-inlet pipe and the cast-iron pump body had completely rusted out. I never expected that connection to rust away and fail, because it always seemed solid. Unfortunately, it would have cost more to repair the faithful pump than to replace it, so we bought a new and simpler pump, as shown in the photo.
The point here is that the most "solid" part of a device can fail even though we test it thoroughly and don't expect it to fail over the life of a product. In mechatronic systems, it can pay to subject components and complete systems to highly accelerated life test (HALT) and highly accelerate stress screen (HASS) regimens.
The electronics industry has applied these techniques for many years, and you can find a series of Web pages that describe these types of tests. Although this information and other resources on the Web apply mainly to electronic components, you can apply the underlying principles with mechatronic designs, too. Even if you contract with a testing lab to perform accelerated testing, you should know what tests you need to run, and how you want to run them.
Years ago, the US military created a handbook, "Reliability Prediction of Electronic Equipment," MIL-HDBK-217, now at revision F, and available as a pdf. This information pertains to components such as op-amps, memories, and logic devices, but it provides useful reliability-prediction guidance that can apply to other types of devices, too.
Accelerated and stress testing often involve what engineers call a "shake-and-bake" environment that literally vibrates equipment and exposes it to temperature extremes. Formally, engineers know this area as environmental stress screening (ESS). Here is a detailed "Environmental Stress Screening Tutorial." Find other ESS information here.