After riding with car owners, team members returned to their offices to go over their data. Engineers and designers wrote their observations on notes, stuck them to a conference room wall, and placed them on a pie chart that rated users from young to old, and from tech-savvy to tech-averse. Then they did a process called "walking the wall," in which they encouraged team members to look at the observations and contribute design ideas.
"We took the ideas and voted on them for technical feasibility," Hichme says. "Then we whittled the ideas down into a few (product) visions that we could build."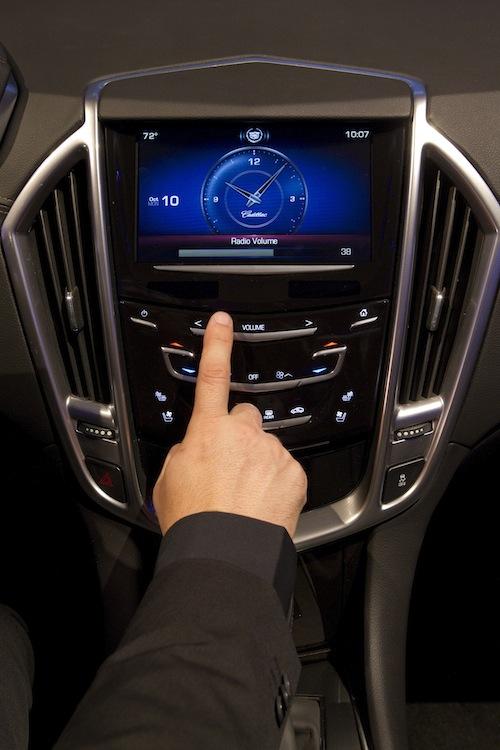 GM management, however, didn't immediately see the light. With the company nearing bankruptcy, many executives wondered about the wisdom of investing in such an expensive process. "Some of the stakeholders said, 'You want to do what? You want to ride along with people? Why don't you just use your gut?' " Hichme recalls. "But after the first event, we came back and presented our visions, and our executives looked at each other and said, 'Why aren't we doing this for all our products?' "
Based on feedback from users, GM's design team identified several ideas that became key elements of the new vision. One important element: user familiarity.
"Customers begged us, 'Can you make it like a product I own today, so I don't have to learn something new?' " Hichme says.
After visiting the Consumer Electronics Show in 2008, the design team identified capacitive touch as being key and set out to develop a user interface that would have a consumer electronics feel to it. With iPads not even on the market yet, the idea of a capacitive touchscreen seemed risky at the time, but it quickly proved itself. Today, the capacitive screen plays a critical role in CUE, enabling users to control in-car devices with the taps, flicks, swipes, pinches, and other gestures that have since become familiar to users of smartphones and tablet computers.
GM engineers say that CUE was in development for three years, largely because technologies such as the capacitive touchscreen hadn't previously been used in autos.
"We had to develop a touchscreen that would work in Michigan in winter and Phoenix in summer," Bly says. "Others have not pursued the technology in the past, but we decided to take the challenge." Bly adds that GM's success with automotive-grade capacitive touchscreens was largely due to a cooperative effort with an unnamed supplier.
As the vision evolved, the design team also took advantage of other technologies that were new to automotive center consoles. Haptic feedback, an idea that evolved during the user studies, enabled drivers to keep their eyes on the road when they reached for CUE's touchscreen. By employing a linear motor to provide a tactile mechanical pulse to the screen when users touched it, haptics supplied a "push-back," thus letting drivers know they were connected.
At the same time, engineers also settled on the use of proximity sensors to enable the unit's eight-inch LCD touchscreen to come to life when a user's finger drew within a few inches of it.
"We could have done that in different ways," Hichme says. "We could have had the screen come to life when you touch it. But that's not Cadillac. We wanted it to seem magical."