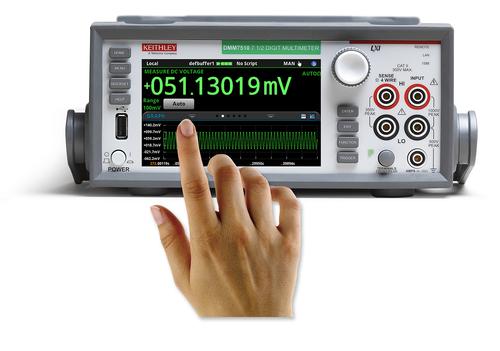 Engineers looking for a simpler, more graphical way to do test and measurement may now have a solution.
In an effort to appeal to individuals who don't consider themselves test experts, Keithley Instruments has rolled out a new digital multimeter (DMM) that combines a touchscreen interface with a digitizer. The instrument is targeted at electrical engineers, but also at mechanical engineers, material scientists, and anyone else who needs to make electrical measurements. "The days of someone being able to spend all their time to become a test expert on a certain instrument are gone," Jerry Janesch, senior market development manager for Keithley Instruments, told Design News. "Today, engineers don't want to bring out a manual and figure out how to make voltage or resistance measurements."
The Model DMM7510, demoed at the recent Medical Design & Manufacturing Show in Anaheim, Calif., is said to be the first of its kind to offer a touchscreen interface. But its real utility comes from its integration of that touchscreen with the onboard, 1 megasample per second digitizer. In doing so, it provides users with a pictorial view of results that can be manipulated onscreen. Keithley engineers say that in some cases, it eliminates the need to send data from the DMM to a PC, which is today's conventional method for viewing results. "Now you can hit the digitizer function and get a picture of what's happening," Janesch told us. "Being able to get the data right now, as opposed to transporting it to a PC, is a big advantage."
Indeed, the combination of the digitizer and touchscreen enables users to watch the waveforms on screen, and then to manipulate them by pinching and zooming with their fingers. "People would never expect to see a sine wave presented pictorially on a DMM," Janesch said. "This is where the digitizer really helps."
For users who prefer tactile feedback, the DMM7510 offers a knob and buttons. Either way, though, the company's goal is the same -- simplifying the extraction and depiction of test data -- for embedded, power, and RF applications, among others. "It's all about making the DMM more powerful," Janesch said. "This adds a lot more utility to the standard bench DMM."
Senior technical editor Chuck Murray has been writing about technology for 31 years. For Design News, he has covered electronics, automation, fluid power, and autos. He wrote his first article about electric cars in 1988.