"The conclusion was, 'We need one of those [human machine interface] things,' " recalls Stuart Norris, lead designer for GM. "That's where you need to be if you're in the luxury space."
When GM engineers and industrial designers discussed the idea, however, they decided they didn't want to make a me-too product. Up to that time, the conventional design process had been simple: Engineers would examine trends among competitors' products, decide which features they liked, and put together a rough concept. Then they'd hand off the concept to a design team, which would "make it look pretty."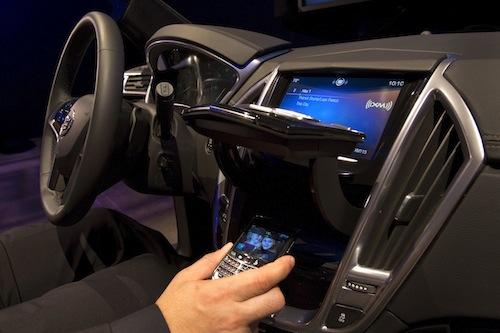 In this case, however, the process would be different. "On CUE, we completely turned the design process on its head," notes Mike Hichme, lead engineer for Cadillac's User Interface group. "Everything was design-driven. We said, 'Let's understand the customer needs and then figure out what technologies we need to support those needs.' "
The CUE team started by doing four independent studies geared toward understanding how people interface with their vehicles.
"We wanted to know what people were bringing into their vehicles," Hichme says. "Cellphones? Navigation systems? CDs? IPods? Most of all, though, we wanted to know how people learn about their vehicles."
GM assigned designers and engineers to visit dealerships and sit with customers who were picking up their cars for the first time. In some cases, they rode home with the customers. Then they reconnected with them after three or four weeks to hear more about what had happened during the interim.
GM team members wanted to learn about the unboxing process -- that is, the process that occurs when buyers pull new products from their packages. In essence, they were drawing a parallel to the individuals who videotape the unboxing of their recently purchased iPhones and iPads (hundreds of unboxing videos can be viewed on YouTube). Only in this case, the tech team was taking virtual snapshots of customers "unboxing" their new cars.
Team members discovered that there were varying types of unboxers. Some owners were methodical, carefully reading their vehicle manuals as they learned. Others were "hunt and peck" types, gathering knowledge on the go. Some owners attacked the learning process as couples, sharing the chores. Others simply learned by arguing with family members. One woman pasted scores of notes on the dashboard as reminders. Whatever the methodology, though, the idea for GM's team was to make an infotainment system that would be usable by all those people.
On every customer visit, GM engineers took photos and recorded events on videotape. Mostly, though, they just watched quietly.
"We tried never to interfere," Hichme says. "You don't even want to ask them questions because they might make something up or remember it incorrectly."