A UK-based energy company is laying plans for a consumer electronics future that would employ hydrogen fuel cells instead of batteries in mobile phones, laptops, tablets, and even drones.
Intelligent Energy, which has more than a thousand patents and another thousand pending, demonstrated proof of its concepts at the recent Consumer Electronics Show (CES) 2016 in Las Vegas, where it showed off two iPhones, a laptop, a Surface Pro 3 tablet computer, and a drone - all powered by hydrogen.
"This device gives you the power to charge your phone for a week," Julian Hughes, acting managing director for Intelligent Energy's Consumer Electronics Div, told Design News. "And with the easy exchange of a cartridge, it can go another week, so you never need grid power."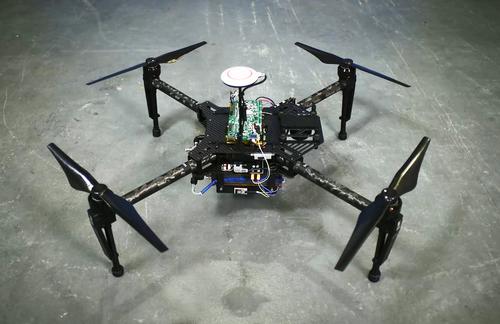 [Learn more electronics trends and developments at Pacific Design & Manufacturing, Feb. 9-11, at the Anaheim Convention Center.]
At CES, the company's engineers showed off a modified iPhone 6 Plus in with an embedded "planar fuel cell" powered by a solid state chemical hydride cartridge that produces hydrogen on demand. The cartridges, about the size of a credit card but about twice as thick, provide far more energy than a lithium battery, without the use of gaseous or liquefied hydrogen. Intelligent Energy said that fuel cell version of the iPhone stored about 65 W-h of energy. In contrast, a similar battery-based iPhone 6 Plus would offer about 11 W-h. The company said it is targeting a cartridge price of about $6-$10 when volume production is achieved.
READ MORE DESIGN NEWS ARTICLES ON FUEL CELLS:
The embedded iPhone 6 Plus demo, while not commercially available, would be a hoped-for next step for the company. Intelligent Energy already offers a portable (external) hydrogen-powered accessory called Upp for USB-based devices, which it has sold in Apple stores in the UK since late 2014.
Intelligent Energy engineers see their technology as furthering the development of consumer electronics because it takes the power onus off the grid to supply energy for the billions of connected devices now in use. "We're now in a world where everyone wants to be connected and everyone wants to be mobile, but the biggest barrier to that is power," Hughes said. "With fuel cells producing energy, we are essentially mobilizing energy production and taking people off the grid."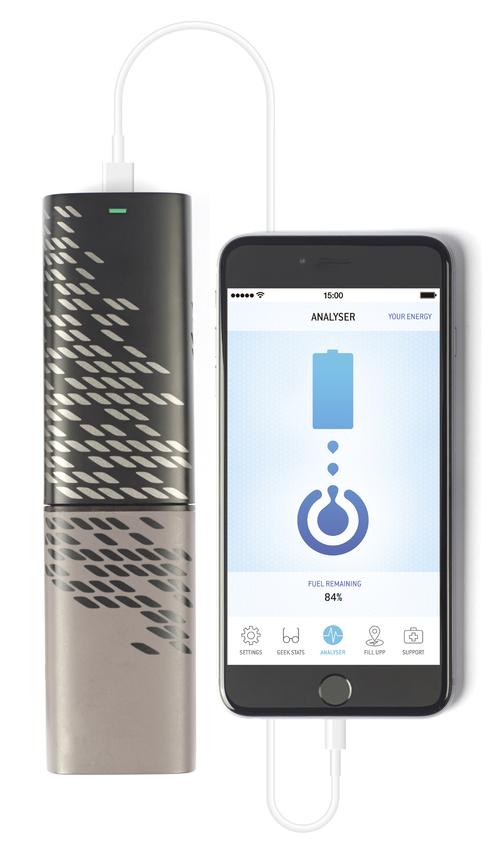 Its effort to change that current status quo, however, will rely heavily on its success with consumer electronics manufacturers. "We're good at developing technology, but we're not product people," Hughes said. "We need partners on the product side to guide us and tell us what they want our technology to do."
Ultimately, Intelligent Energy's engineers foresee the company's fuel cells making in-roads in wearables, sensor-based systems and Internet of Things applications. At CES, Intelligent Energy also showed off a drone that uses fuel cells as a range extender, pushing the available flight time from 15 minutes (by battery) to almost two hours. "[The drone] industry is crying out for a solution to the need for extended flight time," Hughes noted.
For now, the company said it will focus its consumer electronics efforts on drones, mobile phones and portable computers. "We're at the start of a journey into consumer electronics," Hughes said. "We know there are a host of applications we can go after, but right now we need to focus on two or three applications and later we can go after the rest."
Senior technical editor Chuck Murray has been writing about technology for 31 years. He joined Design News in 1987, and has covered electronics, automation, fluid power, and autos.
Like reading Design News? Then have our content delivered to your inbox every day by registering with DesignNews.com and signing up for Design News Daily plus our other e-newsletters. Register here!