Engineers at NXP Semiconductors say they've found a way to take the "coldness" out of dimmable white light-emitting diode (LED) light.
Using a combination of new technologies that earned the company 15 patents, the company's engineers can reportedly remove the harshness from white LEDs and replace it with the "warmer" combination of yellow and white that's familiar to consumers. Known as "sensorless sensing," the new technology could serve in automotive, architectural, aviation, and industrial LED lighting applications, among others.
"LED lights have always had this cold white -- a hospital white," Radu Sudeanu, senior scientist for NXP, told Design News. "But now we know how to correct it to get the right color."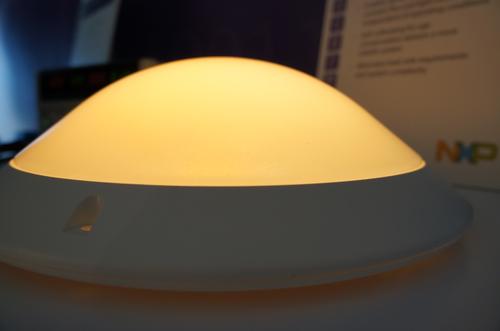 With its new technology, NXP hopes to make LEDs acceptable to a broader swath of consumers. In the past, some retailers have reportedly received dimmable white LEDs back from unhappy customers, some of whom say the light is too much like that of a fluorescent bulb. "Many people don't like it," Surdeanu told us. "They want the same yellowish light that we've all grown accustomed to for a hundred years with the Edison bulb, and for a thousand years before that with fire."
NXP engineers remove "coldness" from LED light with a three-pronged solution. By combining the black body radiation curve (which relates light wavelength to light intensity) of an incandescent bulb with a logarithmically-based dimming technique, and then correcting for temperature variation, they say they can produce a color that lies between amber and white.
The trickiest and most unique part of the solution is the ability to correct for potential temperature variations, Surdeanu said. The company's scientists accomplished that by measuring the electrical properties -- voltage, in particular -- at the LED's junction. Knowing the voltage, they can predict the temperature of the LED with 1°C in 10 µs. As a result, the system can eliminate potential changes in the wavelength of the emitted light. "Knowing the temperature, we can correct to get the right color," Surdeanu said. "We can do that because we know how LED color shifts with temperature."
Because this "sensorless sensing" technique provides important feedback on the performance of the LED, it is particularly applicable to automotive applications. By "knowing" the temperature at any given time, automotive LED systems can employ the technology, not only for overheating protection, but for aging prediction. As a result, the technique enhances the reliability of LED-based automotive systems. Surdeanu said it will soon be employed by an unnamed automotive OEM.
Surdeanu added that the temperature correction technology can be easily integrated into an LED's driver without the need for additional external components, such as temperature sensors and heat sinks. "When you have those three points -- the black body radiation curve, logarithmic correction, and temperature-effect correction -- that's all you need you to start dimming properly," he said.
Related posts: