Detecting distraction
As a result, we're at a crossroads. We've got to manage what's there while getting ready to manage what's coming.
"People are smart enough to recognize that they shouldn't be doing in the car what they do in the living room," Glen DeVos, global director of engineering for the infotainment and driver interface business unit at Delphi Corp., told us. "At the same time, though, they still want to have their connectivity."
That's why automakers, suppliers, and government agencies continue to look for ways to build smarter, safer dashboard systems. In February, the National Highway Traffic Safety Administration took a big step toward the creation of such systems by calling for guidelines that would reduce the complexity of devices, limit their operation to one hand, and limit the duration of off-road glances to a scant two seconds.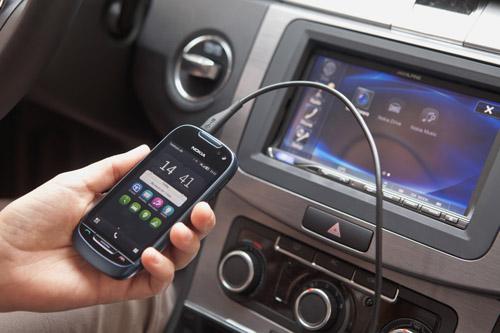 Suppliers are taking the concept even farther. Delphi recently demonstrated its MyFi Connecting with Safety system, which attempts to curb distraction by drawing the driver's attention back to the road. It works by using a dash-mounted infrared camera to monitor the driver. In essence, it sees and reacts to what the driver is doing in real-time. "The idea is to use closed-loop control and adaptive counter measures," DeVos said. "MyFi makes sure the driver is staying in the sweet spot and not glancing away for more than two seconds."
It accomplishes that by using the camera to look for eye position and head movement. A 20-degree cone around the centerline of the driver defines the field of vision. If the driver looks outside that field for more than two seconds, the system uses an "exogenous display" above the dashboard to draw the driver's attention back toward the centerline. The display -- a series of LEDs -- flashes in a way designed to be almost irresistible for the driver.