Electronic News & Comment

Dart designers took advantage of this technological evolution in the new vehicle. Light from the Dart's LEDs shine into a reflector, to an inner lens, and out through outer lenses that incorporate optics. Gale said the LEDs actually face up and down, rather than out the back of the vehicle, as a means of spreading the light and creating a smooth appearance, instead of a series of pinpoints.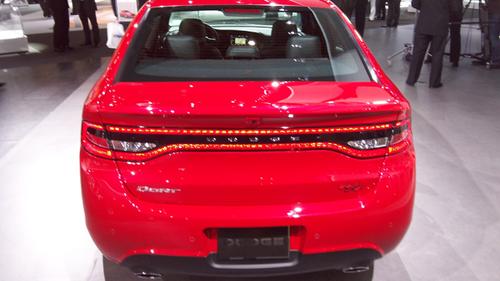 Dodge designers didn't stop at the tail lights. They employed LEDs in the instrument panel, creating a ring around the audio and HVAC controls. They also created a separate LED ring around the speedometer and tachometer.
Gale said that Chrysler is likely to increase its use of the technology going forward. "It's something that we're going to carry on as a tool," he told us. "It enables designers in the studio to be able to shape the light and give the vehicle an identity."
In that sense, he believes, Chrysler has been successful with the Dart: "Nobody is going to mistake this car for anything else."
Further reading:



More Blogs from Electronic News & Comment

23
We recently posted an online slideshow called, "18 People You Didn't Know Were Engineers." Within hours of its publication, readers began to suggest names of other luminaries -- astronauts, politicians, athletes and actors -- who were educated or had worked as engineers.

8
Formula One and Indy racing teams are increasingly converging on a simulator in Italy to give themselves an edge in the design of their cars.

26
In yet another sign that hydrogen is creeping into the consciousness of global automotive designers, sports car maker Aston Martin plans to run a hydrogen-fueled vehicle in a 24-hour Grand Touring race later this month.

53
One of the ugly truths of engineering is that life has a price. Cars, buildings, power plants, and industrial machinery can always be made safer for a cost, but manufacturers are at the mercy of the market.

39
Front-seat television technology is beginning to creep into the worldwide automotive market, but regulators, automakers, and suppliers say it's unlikely to take hold in the US.


A quick look into the merger of two powerhouse 3D printing OEMs and the new leader in rapid prototyping solutions, Stratasys. The industrial revolution is now led by 3D printing and engineers are given the opportunity to fully maximize their design capabilities, reduce their time-to-market and functionally test prototypes cheaper, faster and easier. Bruce Bradshaw, Director of Marketing in North America, will explore the large product offering and variety of materials that will help CAD designers articulate their product design with actual, physical prototypes. This broadcast will dive deep into technical information including application specific stories from real world customers and their experiences with 3D printing. 3D Printing is




Datasheets.com Parts Search
185 million searchable parts
(please enter a part number or hit search to begin)