Lithium-ion batteries will soon back up the power grid on the Hawaiian island of Kauai, providing the stability to handle intermittent power fluctuations from renewable energy sources.
More than 30,000 battery cells, each approximately a half-liter in volume, will be deployed as part of a new 12-MW solar energy park under construction on the island. "The batteries can provide a short burst of discharge power or they can absorb a very short burst of charge power to maximize the grid's stability," Jim McDowall, business development manager for Saft, told Design News.
Kauai Island Utility Cooperative (KIUC) will use the batteries to help match its electrical supply to customer demand, McDowall said. In all, KIUC will employ eight 20-foot-long Intensium Max 20M containers from Saft, each containing 4,060 cells packaged in 290 modules. Together, the eight units will provide 6 MW of power and 4.64 MWh of energy. Two power conversion containers will augment the storage system, converting DC current from the batteries to AC current for the grid.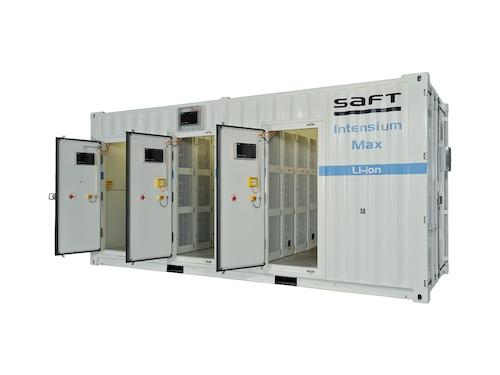 Like Tesla Motors, Saft uses a nickel-cobalt-aluminum oxide (NCA) chemistry in a cylindrical format cell. At roughly half-a-liter in size, however, Saft's cells are much larger than Tesla's 18650-sized cells. Saft has been working with the NCA chemistry for more than 19 years, McDowall said.
The new battery energy storage system (BESS) will be part of a planned $50 million solar energy park on the island. The system will provide spinning reserve and frequency support during loss of generation by pooling with other KIUC sources. KIUC, which is the only franchised provider of electric service on the island, has an all-time peak load of 78 MW.
The concept of battery-based grid storage has gained favor in recent years as more utilities look to renewable energy sources, such as wind and solar. Experts believe that those renewables will need some form of storage to make a bigger impact, essentially because their power is intermittent and therefore unpredictable.
For that reason, many industry analysts believe the grid storage market is on the cusp of huge growth. A 2012 study from Lux Research Inc., "Grid Storage Under the Microscope: Using Local Knowledge to Forecast Global Demand," predicted the market for grid storage would grow 40X over the next few years, reaching $113.5 billion in 2017.
"If you have a low percentage of renewables, then it's probably not a problem to let them produce (power) whenever they're available," McDowall told us. "But when you get to higher percentages of renewables, you need storage."
Related posts: