Self-driving vehicle technology could grow rapidly over the next two decades, with nearly 95 million "autonomous-capable" cars being sold annually around the world by 2035, a new study predicts.
The study contends that the cars will still have steering wheels and pedals, but will be equipped with auto-pilot buttons that will allow them to take over at the driver's request. "You may have to pull your car out of your driveway and onto the main road," David Alexander, author and senior research analyst for Navigant Research, told Design News. "But once you're on the main road, you'll be able to push the button and have the car take you wherever you want to go."
The study, titled "Self-Driving Vehicles, Advanced Driver Assistance Systems, and Autonomous Driving Features: Global Market Analysis and Forecasts," predicts that the first wave of autonomous-capable production vehicles will hit the streets in 2025. At that point, full autonomy will be reserved for luxury cars, largely because the feature may cost as much as $10,000.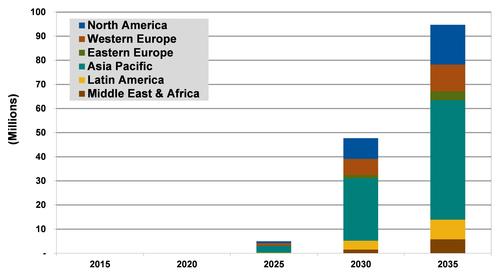 "When you put it in a $90,000 car, it's not a big percentage of the overall cost," Alexander told us. "But as volume grows, cost will drop, and it will start to appear in other vehicles."
Alexander predicts that the autonomous vehicle market will grow rapidly after 2025. From 2025 to 2030, the worldwide number of such vehicles will rise from about 5 million to more than 45 million. Five years after that, it will hit 95 million. The biggest adopter of the technology will be the Asia/Pacific region, followed distantly by North America and Western Europe.
In the meantime, various "sub-levels" of autonomy will appear on roads around the world. Google has said it will begin testing a fleet of more than a hundred driverless cars later this year, but those cars will top out at just 25 mph and will likely see use in gated communities. Induct's Navia automated transport vehicles reached the market earlier in 2014, but are targeted mainly at airports and theme parks. Other limited forms of autonomy -- such as piloted modes -- will be rolled out by GM, Mercedes, BMW, and Audi, among others, by 2020.
The remaining technical obstacles include weather, electronic malfunction, and unexpected road scenarios. In all cases, software will have to replace driver experience, says Alexander. "You can't pre-define every possible situation that could happen on the road. So you have to build in some intelligence that enables the vehicle to make good decisions."
For societies, autonomy could yield benefits. In the US, where annual traffic fatalities remain around the 30,000 per year, self-driving cars could significantly boost safety.
Still, liability looms as a potential game-breaker. Navigant's study concludes that for the market to grow, legislators will need to find ways to put limits on damages caused by autonomous vehicles. "They'll have to make sure there is extensive labeling, telling you that once you push the button, you take on some of the responsibility. Otherwise, if you leave all the responsibility to the OEM, it's unlikely that anyone will want to produce an autonomous vehicle."
Technologically, however, the vehicles are rapidly closing in on the goal. Even today, self-driving systems are capable of performing 80% to 90% of the necessary chores, Alexander told us. "The cost of sensors is dropping rapidly. It's getting to the point where it's reasonable to start fitting some of the sensors on today's vehicles."
Related posts: