In the muscular tradition of the rubber-burning dragsters of the 1960s, a start-up company plans to put a new twist on the decades-old concept of the performance car. Bloodshed Motors, a company whose very name drips of drag strip macho, will install high-voltage electric powertrains in vintage 1960s muscle cars, ranging from Mustangs and Camaros to Corvettes and Barracudas. Drawing on the engineering prowess of one of the country's premier electric drag racers, the new company says its cars will turn quarter-mile times of 10 seconds, while offering all-electric ranges of 125 miles.
"Anybody can take a vintage muscle car and make it faster by packing in bigger engines with superchargers," Mitch Medford, CEO of Bloodshed Motors, tells Design News. "But we're doing something radically different. We're taking the performance car up a notch, to a level that I'm not sure you could reach, even with a gasoline engine."
Click on the 1968 Mustang Fastback below to start the slideshow.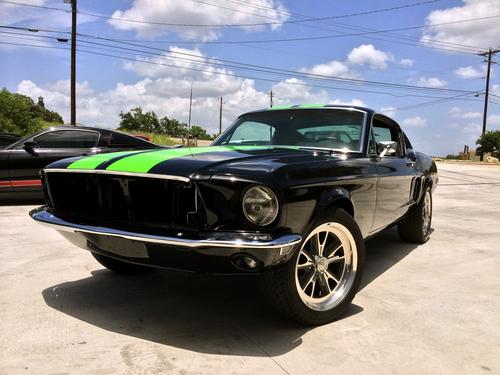 Indeed, Bloodshed's performance specs border on the fantastic. The company's first prototype Mustang, which uses its Zombie 222 package, goes 0-60 mph in less than three seconds, hits a max of 750 HP, and produces 1,800 lb-ft of torque. It also generates more than a megawatt of energy.
To be sure, such performance isn't cheap. Bloodshed's prices will start at around $200,000 and climb as high as $250,000, making it appeal to the high-end of the automotive collectors' space. "We're thinking of people who have six or seven cars, all worth six figures and up," Medford tells us. "I wouldn't be shocked if we found some of our customers already owned Teslas."
Electric classics
His idea to build electric dragsters was at least partially inspired by Tesla's success. "When I saw what Tesla was doing in the luxury car space, I knew I needed to find out what was happening in the high-performance drag world," he says.
To learn more, he did a Google search, then ended up contacting electric drag racing legend John Wayland. "When I found out that John had made a 1972 Datsun outrun a Bugatti, I knew I needed to talk to him," he says.
He subsequently told Wayland of his plans, outlining his performance goals and range numbers, based on what he thought collectors would want. "I knew the collectors would need about 125 miles of range, so they could take the cars to shows and drive them around on the weekend," he says. "And I knew they would need something shocking. That's why they buy Ferraris and Bugattis in the first place."
Wayland immediately saw the wisdom in Medford's plan. Using the right batteries, he said, he could deliver the 125-mile range and the sub-three-second 0-60 mph times. "I knew we didn't need the range and cross-country capabilities of a Tesla," Wayland tells Design News. "But I also knew we needed more range than a Nissan Leaf."
Specifics on battery design are still scarce, but Wayland has said that the Zombie 222 packages will use lithium polymer cells with pack capacities between 41 and 45 kWh. In the past, his White Zombie drag strip vehicles achieved eye-popping numbers using a military-grade lithium polymer chemistry from (Dow) Kokum, but he is not yet saying whether Kokum will be the vendor for Bloodshed Motors' cars.
What is known is that the battery packs will be expensive. Medford has acknowledged that the cells alone will cost more than $50,000 and possibly run as much as $65,000. When cooling systems, battery management, and enclosures are added, pack costs could hit $70,000 or more.
The reason for the high cost is simple: Bloodshed doesn't just need a high-energy battery, à la Tesla. It needs raw power. Plans are for the Zombie 222 to operate at a nominal voltage of 355V. Currents could run in excess of 3,200A. Theoretically, a car could produce 1.136 MW. "We're focusing on street cars that will do well at the track," Wayland tells us. "To do that, we have to have a good marriage between energy and power."
A good suspension system will also be needed, Medford says. Because the cars' rear ends need to handle 1,800 lb-ft of torque and a 600-lb battery load over the axle, the company's engineers chose a high-performance rear suspension system sometimes employed in auto-cross racing. Known as the Rear Bilstein Three-Link System, the suspension is produced by Street or Track LLC.
Medford says his company will put the Zombie 222 package in a variety of vintage muscle cars, including Ford Mustangs, Chevy Camaros and Corvettes, Plymouth Barracudas, Pontiac GTOs, Dodge Chargers, and other high-performance classics. The company will help find the cars, put titles in the names of buyers, and then do the conversions. The unspoken goal is to make heads turn -- at car shows, drag strips, or traffic lights. "We'd love to get a hold of a Corvette built between 1963 and '67," he tells us. "And my personal dream is to do a Charger."
As the company launches, it's seeking crowdfunding through Indiegogo, and offering memberships to a "virtual design team." For prescribed levels of funding (unknown as yet), Bloodshed will give members access to conference calls and design meetings. It will even allow access to its Austin, Texas facility, where "virtual designers" can participate in vehicle builds.
The one thing the company won't do is compete with conventional EVs. Its electric muscle cars must be deemed classics. "If someone said, Hey John, would you do an electric Toyota Corolla? I'd laugh," Wayland says. "This is about using the best components to make a very high-end car."
Related posts: