Freescale Semiconductor and Broadcom Corp. have partnered to create a chip that could lay the foundation for surround-view cameras in more vehicles.
The new technology will enable automakers to mount multiple cameras around a vehicle and send data over Ethernet cabling. This would allow automakers to dramatically reduce the size of onboard wiring bundles and the electronics in the camera modules.
"One of the main purposes of this development is to simplify the cabling for cameras," Ray Cornyn, vice president of product management for Freescale's MCU products, told us. "You need Ethernet as a way of cheaply networking multiple cameras around the vehicle."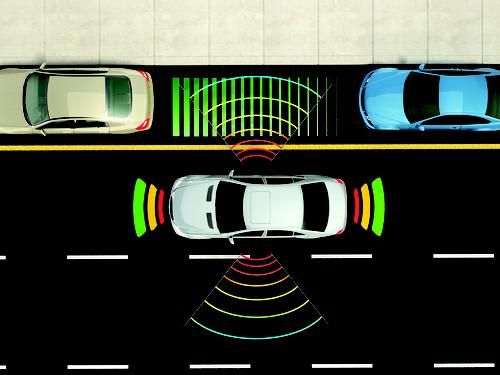 The Freescale Qorivva MPC5606E microcontroller chip contains image compression technology, along with the time-stamping and transmission capabilities of the automotive industry's BroadR-Reach Ethernet standard. All its features are contained in an 8 mm x 8 mm electronic package, which could reduce the size of automotive cameras modules by up to 50%, Freescale says.
The technology is potentially significant because it could lay the groundwork for adoption of surround-camera systems in mid- and entry-level vehicles. In surround-camera views, a software program stitches together multiple camera views from around the vehicle, allowing the driver to see a top-down view of what's around the car, as if a camera were hovering above it. Automakers and Tier 1 suppliers have been considering 360-degree capabilities in the wake of a March backup camera mandate from the National Highway Traffic Safety Administration.
The new technology would give a boost to the 360-degree concept because it provides a physical layer and transceiver for the use of Ethernet-based communications. Today, vehicle cameras typically use point-to-point low-voltage differential signaling wiring to enable cameras to communicate with one another and with onboard controllers. Ethernet, well known as a computer networking technology, would enable vehicles to eliminate much of that point-to-point wiring, potentially cutting cabling weight by 30% and connectivity costs by 80%.
Also, the chip's small package size would enable miniaturization of cameras, so they could be mounted unobtrusively on front grills, bumpers, or side mirrors. Many such cameras are already used in luxury automotive features, including parking assistance and blind spot detection.
Cornyn said he ultimately expects Ethernet-based solutions to spread to other areas of the vehicle. "It won't just be for cameras. You're going to see it in audio systems."
Related posts: