Smartphone apps and Bluetooth connectivity are coming to the venerable hobby of slot car racing.
Longtime slot car manufacturer Scalextric has teamed with Nordic Semiconductor ASA to create a smartphone app that allows model racers to monitor lap times, throttle responses, "fuel" levels, "tire wear," and other information. "This is a lot more interactive than just watching cars go around a track and then arguing about who won," Darren Nye, Scalextric product development manager, told Design News.
The new Scalextric RCS system employs a Nordic Semiconductor Bluetooth Wireless Connectivity chip that enables its Powerbase track to talk to a smartphone, iPad, or intelligent device that runs a free software app. It is believed to be the first time that a Bluetooth chip has been employed for such an application.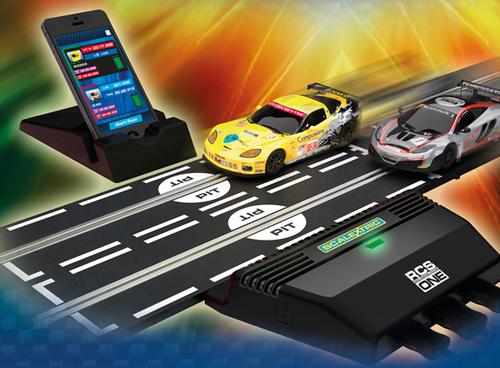 During a model car race, optical sensors positioned at the slots in the track "know" when a car has passed by, and the Bluetooth chip sends that information to the smart device. Using the data gathered by the sensors, the smart device can then identify the car and monitor its speed and lap number, or tell whether it has made a pit stop for refueling. (Every car's virtual fuel level is reduced when it passes the sensors.)
Scalextric, a division of the global toy giant Hornby Hobbies Ltd., also employs a Nordic 2.4-GHz wireless SOC (system on chip) to enable the racer's hand throttle to communicate with the Powerbase in the track. By doing so, the hand device can change the voltage that allows the car to speed up or slow down.
Scalextric, which has sold millions of handheld slot cars since 1957, considered wireless data-gathering an obvious next step for the hobby, but its engineers saw cost as a potential hurdle. By moving to an already popular hardware platform, however, they minimized expenses. "We needed a system that was intuitive, and there was no better way of achieving that than going to an iPad or smart device," Dale Luckhurst, Scalextric marketing manager, told us. "Instead of putting a screen in ourselves, this gave us a familiar solution that was already in the hands of consumers."
Users can operate the system via an app running on a compatible Bluetooth Smart Ready device, downloadable from either Apple's App Store or the Google Play store.
Scalextric believes the technology will add a new dimension to the sport. "The whole point is the race," Luckhurst told us. "And you can't really race without counting your laps or knowing your times."
Related posts: