A new microcontroller (MCU) that's smaller than a golf ball dimple may offer a solution for future Internet of Things applications. Known as the Kinetis KL03, the new device is said to be the world's smallest 32-bit, ARM-based MCU. Freescale Semiconductor, maker of the KL03, says it could serve in smoke detectors, door alarms, light bulbs, medical devices, ingestible electronics and myriad other applications that act as so-called "edge nodes" for the Internet of Things.
"This is for engineers who have to do something small, and the only way they can do it is by adding a microcontroller," Steve Tateosian, global product marketing manager of Freescale, told us. "It's a fit for systems that have historically been dominated by mechanical designs, and are now moving toward electronics."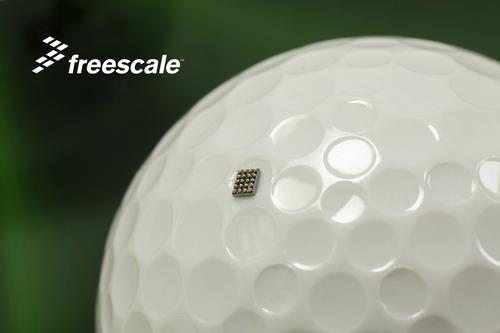 Freescale said the device is especially important for the Internet of Things (IoT). In the Internet of Things, objects are endowed with the ability to transfer information over a network, essentially taking humans out of the equation. Industry experts have predicted that IoT technology could reach hundreds of billions of everyday products, some as small as lipstick containers. That would require some degree of on-board intelligence.
Freescale's KL03, said to be about 35% smaller than competing ARM-based devices, measures just 1.6 x 2.0 mm. It includes flash memory, analog-to-digital converters (ADCs), and read-only memory with on-chip boot loaders, in addition to a 32-bit, 48-MHz ARM Cortex core. By integrating those discrete components onto a chip, it allows users to remove components from the board level, thereby reducing the size of the overall electronics. Capabilities such as power management and voltage regulation are also incorporated onto the chip.
With a pitch (distance between pins) of just 0.4 mm on the electronic package, the device might have been too small for some industrial applications just a few years ago, Tateosian said. "There was always a concern about anything below 0.8," he told us. "But a pitch of 0.4 is no longer a red flag. It's really starting to reach the mainstream in today's technology."
Tateosian added that the package's small size could enable it to serve in some applications that now use only a sensor, but could benefit from the addition of on-board intelligence. The part is so unobtrusive that one Freescale customer, a biologist, is considering putting it on the wings of birds to track migration patterns. Another wants to place the device on electric motors that are so small they previously didn't have space for on-board intelligence.
For such customers, the benefits can even extend beyond the obvious volume issues. "It integrates everything into a smaller form factor," Tateosian said. "So cost is reduced and manufacturing flow is simplified."
Related posts: